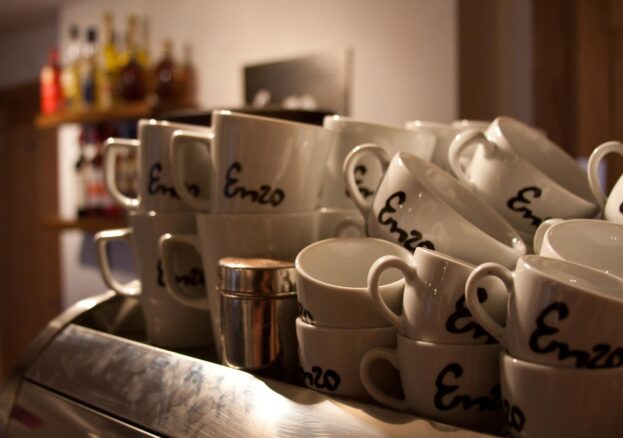 Awesome pizza, brewtiful coffee and vegan-friendly too – Enzo ticks all the boxes when it comes to eating out in Nantwich.
Enzo is a modern cafe bar which does things a bit differently. It's the kind of place where you can pop in for coffee and cake, brunch, lunch, pizza, pasta, a glass of wine or a bottle of beer. Not all at the same time. But actually, why not? You only live once.
We'll avoid the c-word, 'concept', because that sounds utterly pretentious and Enzo is most definitely not that. A happening, perhaps. You might just happen to be wandering past and fancy a coffee. Not just any coffee; deep, dark, Italian coffee, house-blended and made with a bit of flair. With coffee comes cake. Us Brits are obsessed with cakes and we love to bake them, watch other people baking them, talk about baking them and sometimes even eat them. Every cake at Enzo feels like it's been baked with love.
That goes for the pizza and pasta too, made fresh in the kitchen every day with homemade sauces. Enzo is perfect for carnivores, herbivores and omnivores, and many dishes can be customised as vegan or gluten-free on request. They also do gluten-free pasta and vegan cheese. If you think you could live on pizza then this is your time to shine. The 'Big Breakfast' pizza comes with egg, bacon, sausage, fresh tomato, mushroom, mozzarella and tomato sauce. The menu even boasts a nutella pizza dessert, which means that technically you could order a pizza for breakfast, lunch and dessert here, which must merit a medal from the Guinness World Records. Let us know.
From coconut hot chocolate to a cheeky beer, drinks options will quench your thirst whatever the weather.