Duke Street Espresso Bar
Christina McDermott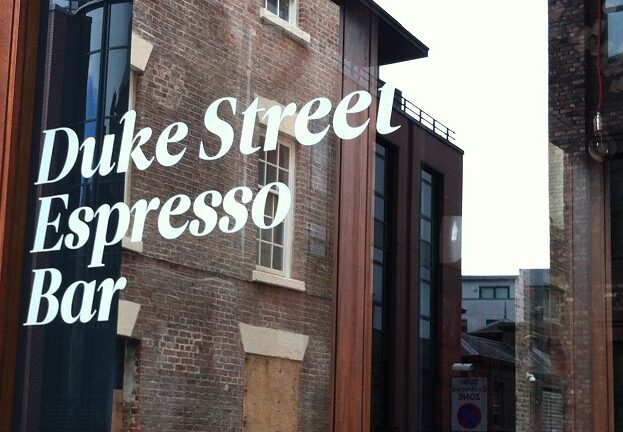 In our tireless hunt for the best coffee experience in the North, we test out Bold Street Coffee's little brother.
Liverpool is a place that appreciates the importance of a good brew. Walk down practically any street in the city centre and you're likely to spot at least one coffee shop (Bold Street has a Costa Coffee, a Starbucks and a Café Nero situated within 50 metres of each other). However, as any discerning caffeine fiend is aware, not all coffees are created equal. If you're a Scouser in the know, you'll have already paid a visit to Bold Street Coffee to sample the delights of its single blend filter coffees, as well as experience what might very possibly be the best Flat White currently served in the North West of England. You'll probably have feasted on its excellent sandwiches, chatted with the friendly baristas and maybe even congratulated them on their daring decision to play Billy Joel's "Piano Man" at full blast at 7.30am. And you'll probably have wished that there were more coffee shops in the city offering as good an experience.
Thankfully, there are. Situated snugly at the crossroads of Duke Street and Hanover Street is Duke Street Espresso Bar, Bold Street Coffee's little brother. An airy, stylish homage to the kind of cafés that are ten-a-penny in places like New York, it is a coffee geek's dream. Peek at the menu and you'll see a plethora of single origin brews, all hand ground on the premises, which you can choose to have brewed either via the drip-brew method or in an aeropress. Look up and you'll see a ceiling strewn with hundreds of paper espresso cups. Listen and you'll hear everything from Richard Hawley to Miles Davis coming from the stereo.
Duke Street Espresso Bar describes itself as a "toastery'', meaning that the food on offer focuses mainly on bread. Slices of toast start at 60p and can be topped with peanut butter, jam, marmalade, honey or marmite. Alternatively, you could pick up one of its selection of pastries; the excellent homemade toasted fruit loaf (£2.50) is packed full of dried fruit and comes in doorstop-sized slabs dripping with butter. If you're looking for something slightly more substantial, go for one of the toasted bagels, which come filled to the hilt with pastrami and cheese.
Duke Street Espresso Bar isn't as big as Bold Street Coffee but, because of its location, it does tend to be quieter, allowing you to hunker down and enjoy a good coffee and some handy free WiFi in relative peace (at least for now). If your tastes veer towards something a little stronger, the bar hosts occasional Wine & Cheese evenings and has even been known to mix up some coffee-based cocktails (its Flat White Russians are particularly delicious). In a city where it can often feel as though chains rule the roost, it's nice to know that there's somewhere local and unique where you can enjoy good ambience, good food, good tunes and a damn fine cup of coffee.