District Liverpool
Vicky Andrews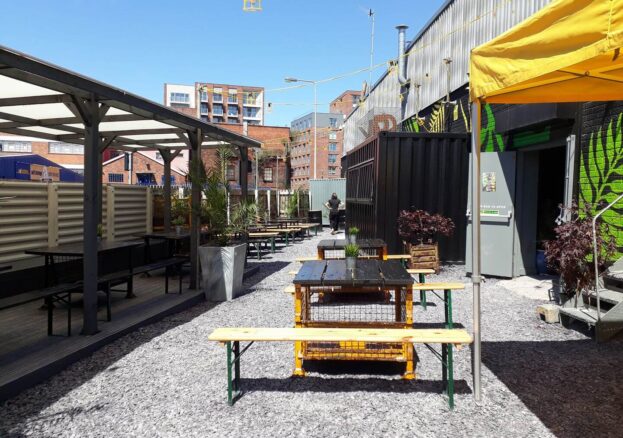 Liverpool's Baltic Quarter is a hub for the city's independent scene and at the heart of this ethos of pushing the boundaries is District Liverpool, a vibrant multi-purpose venue that hosts gigs, club nights, film screenings, cabaret, festivals and much more.
District is the creation of 70s punk legend Jayne Casey, a key player in Liverpool's artistic and creative scene who has been at the forefront of some of the largest cultural happenings in Liverpool's recent history, including Capital of Culture, the Biennial Festival and the nightclub empire, Cream.
Jayne played a huge part in the Baltic resurgence too; pioneering the creation of the Baltic Creative. The gentrification of groundroots creative hubs had become a problem since Eric's in the late 1970s; people were coming down from London to what was a derelict area and then the large developers would move in and shove them out. They moved over to Wolstenholme Square which was derelict, then the area around Cream became boom town and the area re-developed again.
Jayne decided to invest in a long term strategy for the Baltic Triangle. To protect the neighbourhood from the developers, they set up a trust – the Baltic Creative. Once that had been established, District took off as an independent events venue, first as an art gallery for the Biennial and then evolving into a cultural hub including club nights and live music.
Today, District Liverpool is home to some of the city's most popular and eclectic music nights, including Beers For Queers, Boss Night, Positive Vibration and EAT ME + Preach. It has hosted some of the UK's most innovative and exciting metropolitan festivals, including Liverpool Sound City, Liverpool International Festival of Psychedelia, Positive Vibration – Festival of Reggae, Liverpool Disco Festival, Threshold Festival and Liverpool Music Week.
District also has a hip outdoors area in the form of Yard, a garden bar which offers a great selection of ales, cocktails and spirits, plus DJs playing a chilled mix of tunes. While you're in the Baltic Triangle, take a wander down New Bird Street to see the city's best graffiti and street art and visit some of the other fine watering holes in the area, including Hobo Kiosk, 24 Kitchen Street, Love Lane Brewery, Dockleaf, Baltic Social and The Botanical Garden.