Camp and Furnace
Christina McDermott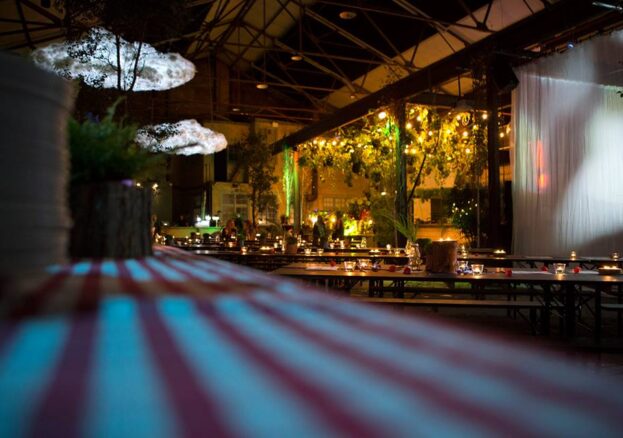 It may not look it from the outside, but this is one of Liverpool's best purveyors of, booze, music and good times.
The Baltic Triangle doesn't look like much. Just a few back streets huddled around the docks, full of derelict warehouses and muffled in a miasma of interesting smells from the nearby Cain's Brewery. But appearances can be deceptive, and this apparently unassuming area is actually one of Liverpool's most creative. And right at its heart is Camp and Furnace.
But what exactly is Camp and Furnace? Is it a bar? A gastropub? A nightclub? An events space? In fact, this multi-purpose venue is all of these things, thanks in no small part to its size. Because that's the first thing you notice about this place – it is absolutely enormous. Comprising three old warehouses and a coach shed shoved together, it somehow manages to be both cavernous and cosy. We especially like the bar area ("Furnace") with its roaring fire, the smell of wood smoke permeating the air. Settle down here with a "Brown Bear" (the craft beer brewed especially for the venue by the Liverpool Craft Beer company, whose hops are smoked in the aforementioned furnace) and one of its delicious bar snacks (last time we were in we we're big fans of the signature Chorizo burger, Scotch Eggs and savoury donuts).
Check its gigantic warehouse dotted with vintage caravans and jaunty stuffed fox
Walk through Furnace and you reach "Camp", the gigantic warehouse space dotted with vintage caravans, fairy lights, lots of shrubbery and a rather jaunty-looking stuffed fox. Attend an event in Camp and you'll find all sorts going on within the caravans, from tarot card readers and vintage clothing emporiums to temporary tattoo artists touting their wares. Camp is also one of the best places in the city to watch the footy; try a beer and a bratwurst during a big match.
Camp and Furnace doesn't just major on food and booze. It is big on events, too, with late-night happenings ranging from craft beer festivals and ping pong nights to acoustic gigs and Food Slam Friday, a weekly large-scale supper party, where, according to organisers, "food meets drink, meets dance music". It's with events that this space really comes into its own – there's a communal atmosphere that lends an aura of coolness rather than pretentiousness. Yet during the day Camp and Furnace also manages to act as an oasis for the freelancer, with free Wi-Fi, good coffee, great sandwiches and plenty of space to stretch out in. All in all, then, this big, bold, beautiful space is one of Liverpool's brightest lights.