Boxpark Liverpool
Creative Tourist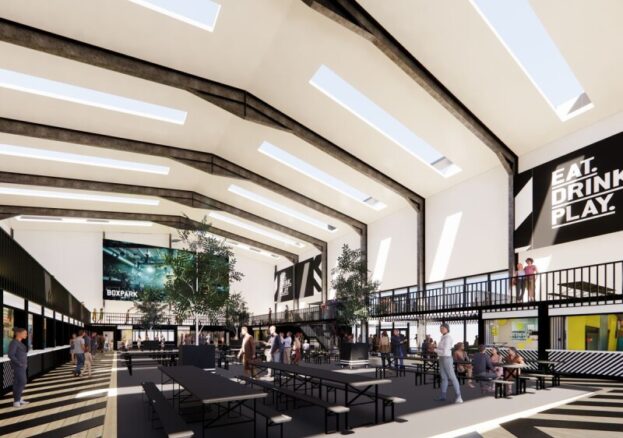 Sitting in the heart of Liverpool's Baltic Triangle district at Cains Brewery Village, Boxpark Liverpool will bring together forward-thinking street food, drinks and entertainment under one roof, championing local businesses and creators in the community.
Boxpark was born in 2011 in Shoreditch, where it transformed shipping containers into pop-up dining and shopping destinations — this is almost run-of-the-mill these days, but it wasn't really a thing back then. Fast forward 11… wait… 12 years and Boxpark has three sprawling venues at iconic London locations, making it one of the biggest food, culture and social hubs in the capital.
And now, after long last, the North gets the goods. Boxpark has agreed a 15-year lease with the iconic Cains Brewery Village for The Canning Hall site in the south of Liverpool, which sits within the Baltic Triangle district.
The tall warehouse building, harking back to the '80s, will be transformed into a stunning food and entertainment destination, spanning 15 thousand square feet and encompassing 10 kitchen units and three internal bars. There'll also be an external terrace, for al fresco dining plus intimate events, from live music to private hires.
Formerly an industrial zone, the area has established itself as a large and growing cluster of creative industries, offices, restaurants, bars and leisure units since the mid 2000s. Boxpark will be an exciting addition to both this immediate area, and to Liverpool's wider food and drinks landscape, which it will join in late 2023.
Boxpark CEO Simon Champion, comments:
"We are thrilled to announce such a fantastic location for our next Boxpark venture. Our team have searched extensively for sites in Liverpool since 2016, having considered multiple locations across the city. As a dynamic and fast-growing business, we hope Boxpark will be an exciting addition to Liverpool's buzzing food and drink scene, offering an all-day food and entertainment destination."