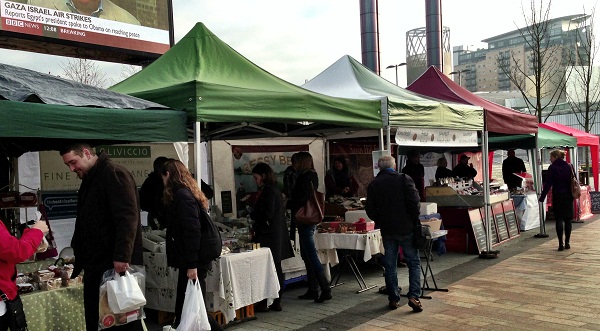 A new Manchester market sets up its stalls outside Media City – and it's not just for the likes of the BBC.
A 20-minute tram ride from the city centre, this is Manchester's newest food offering, a little market laid out on the vast plaza in front of the BBC's shiny new HQ. The area around Media City does, as anyone who has stopped off there lately will know, still have a box-fresh feel. And while the recently opened Booths supermarket is doing a roaring trade, and restaurants such as Wagamama and Prezzo, or the peculiar bar-in-a-shipping-container, Dock Bar, have started to fill in the gaps, Media City has a way to go before it's fully bedded in. But things are definitely heading in the right direction, and this monthly artisan and farmers' market adds to the growing mix of things to do beside the Ship Canal, despite its smallish size (it's held every third Thursday of the month from March).
Things are heading in the right direction, & this adds to the mix of things to do beside the Ship Canal
There's a diverse mix of goods on offer: homemade cakes and treats, pies, organic meat, a fish stall, cheeses, olives, artisan pizza bases and vegetables, plus occasional craft stalls. There's even a mobile Italian coffee stall based in a dinky customised Fiat car, its caffeine-rich rocket fuel surely driving some of the broadcasts emanating from BBC North. While there, take the opportunity to peer into the Beeb's state-of-the-art facilities in Quay House (bonus points if you spot any celebs; there are tours but sadly not on a Thursday), or hop across to The Lowry or IWM North – we particularly recommend the latter's current Saving Lives or the former's exhibition, Centre Stage (where members of the audience had the camera turned on them, and became the subjects of the show itself). All in all, The Quays is at last becoming the place we'd always hoped it would: a destination in its own right. And this little market is one way of helping turn it from new-build media factory into a canal-side community. See you at The Quays – we'll be the ones supping on the aforementioned rocket fuel.