Arabica
Ian Jones, Food and Drink Editor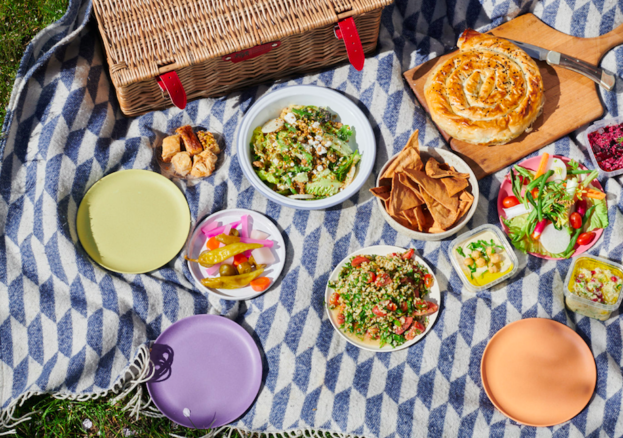 Arabica is a highly-regarded Middle Eastern-inspired restaurant based in London that has launched a range of Picnic At Home kits, ideal for those UK-based staycation holidays and daytrips. Obviously, London is a little way out of our usual catchment area but these bumper boxes are delivered nationwide and we've yet to come across a beautifully collated picnic collection like these anywhere else.
the Arabica team has cast some kind of magic over beetroot and turned it into something remarkably delicious
At the time of writing (early May), the Manchester weather is living up to all those well-worn clichés so a real-life picnic is out of the question for now meaning this feast was devoured round at my mate's house. But tastebuds remain the same, so let's look at what's inside the Deluxe Picnic Kit, which retails at £75 (there's also the classic Arabica Picnic Kit for £50). First, a seasonal selection of crunchy crudités, made up of carrot strips, radishes, spring onions and more, designed for dipping into the silky-smooth pot of hummus and the endlessly moreish smoky baba ghanoush (topped off with pomegranate seeds that add a piercing sweet taste and deep red visual flourish).
A pot of crunchy pickles is a great little side option to dip into, made up of tangy but not-painfully-hot chili peppers, carrot slices and chunks of pickled cucumber. There's a tray of crisp, thin slices of pita to scoop up the aforementioned dips, plus yet another pot of beetroot borani – as someone who often takes umbrage with beetroot, I can happily declare that the Arabica team has cast some kind of magic over this perenially unloved root vegetable and turned it into something remarkably delicious.
The best baklava that I, a self-professed baklava nerd, has ever tried
And then there's no less than two different types of salad, one made up of smoked green wheat freekeh, tomatoes, lemon preserve, just the right amount of herbs and a tart citrus dressing that brings the entire thing together. It should be noted that the deluxe kit comes with plates and cutlery enough for half a dozen people, which is about what this whole hamper serves, though it's perfectly fine for two plus a whole lot of leftovers. The other salad is a spring-perfect combination of crunchy vegetables, barley rusks, feta and pistachios, with an orange blossom dressing to drizzle over the lot.
As great as all this is – and it truly is, an inspired mix of hearty, healthy, outdoorsy treats – the absolute standout piece of the puzzle is the bake-at-home boregi. A huge spiral of filo pastry containing a perfectly balanced spinach and feta filling, this sticks fondly in my mind, days after eating. Do as I did and bake at home then wrap in tin foil and take it to wherever you choose for your picnic spot. It'll keep warm for a good few hours, and never not taste stunning.
Finally, my all-time favourite dessert, a god-tier selection of baklava, going a good few steps above and beyond the standard high street fare, taking in coconut fillings, pistachios, dates and a lot more. The best baklava that I, a self-professed baklava nerd, has ever tried? Quite probably.
Holidays abroad are looking ever-more risky as spring turns into summer, and quite wisely most smart people are looking to the British Isles for the holidays. With the Lake and Peak Districts on our doorsteps, let alone a wealth of green space (Manchester city centre aside), picnic pics are set to flood Instagram over the next few months – for a truly next-level outdoor dining experience, you'll be hard-pressed to find a better selection of Middle Eastern-inspired cuisine than these.