Zubin Kanga (piano) – Cyborg Soloists: The Body Electric at RNCM
Johnny James, Managing Editor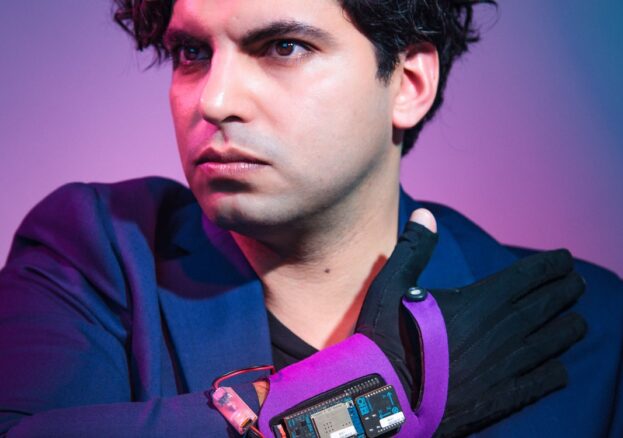 Part of Submerge Festival, Cyborg Soloists: The Body Electric sees pianist Zubin Kanga perform a future-leaning programme of 'cyborg' works wherein his instrument meets new digital technologies.
Submerge Festival is a queer-led, Manchester-based producing organisation and international festival of contemporary performance, music, and creative technology. It's got some pretty wild events programmed this year, one of the very wildest being this concert with Zubin Kanga who, over the last decade, has established a reputation in Europe and Australia as a leading innovator of new approaches to the piano. His work in recent years has focused on new models of interaction between a live musician and new technologies, using film, AI, motion capture, 3D modelling, animation and virtual reality.
Tonight, he performs six flamboyant cyborg works in a programme featuring queer composers and themes. Each work combines the piano with a different kind of technology, including sensors, synthesizers, strobe lights, electronics, video and cutting-edge digital instruments. Five out of the six works in the programme are also world premieres.
First is Do you share coming out stories still? by Robert Reid Allan, who uses a TouchKeys keyboard to transform an interview with a queer mentor about generational changes in queer life and culture. Next is Heart of Glass (2019) by Alwynne Pritchard, who takes inspiration from Werner Herzog's experimentations with hypnosis in the 1976 film Heart of Glass. Also inspired by drag and Japanese butoh dance, the work will find Kanga appearing to be hypnotised, performing around the piano, and in multiple personas on screen.
In their piece Escape TERF Island, Manchester-based artist CHAINES (Cee Haines) uses ROLI keyboards to create fluidly morphing electronics, while Liverpool artist Lola da la Mata's A meditation on unnatural corporeality in three tableaux is more of a movement-based piece. A collaboration with performance-art duo Antonio Branco x Riccardo T, it features sensuous choreography that explores responses to touch with biosensors from Movesense, accompanied by the sound of a voice that is shaped by the dancers' heartbeats.
Onto one of Kanga's own works: Hypnagogia uses classic analogue synthesizers to create cascading walls of sound and spiralling rhythms that are then melted and morphed using MiMU sensor gloves. And to close, hhiiddeenn vvoorrttiicceess by Luke Nickel uses Soundbrenner's haptic metronomes alongside dreamlike roller-coaster visuals and the sounds of Ravel filtered through an AI, in a play of vertiginous tempi between the hands.
Well, there you have it – probably the wildest programme we've ever written about at the RNCM. We can't wait.
Part of the RNCM Spring Season.
 This performance contains partial nudity and flashing lights.