Yuletide at Tatton Park
Shekina Rose, Families Editor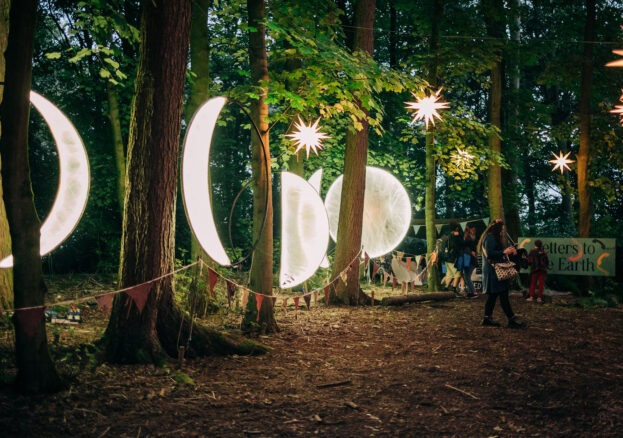 As we move into the festive season, families are invited to embark on a new winter tradition at the Yuletide Glittering Winter Garden Adventure at Tatton Park, taking place on selected dates between Friday 24 November and Saturday 23 December 2023. Prepare to be dazzled in this luminous world of myths, tales, and twinkling traditions, of fantasy and legends, as you immerse yourself with shimmering characters and creatures from winter tales.
Journey through the spectacular, dazzling 1km festive light trail through Tatton's famous gardens, where winter witch goddesses have seized the moon and sun, and mischievous snow hares shift shapes and dazzle under the stars. The trail features installations, interactive light effects, illuminated puppets and costumed characters to bring the stories to life.
Before you embark on the illuminated Glittering Trail, head to the heart of Yuletide, staying toasty as you circle the cosy campfire and listen to enchanted tales of Festive Folklore. Dance and groove to live folk music and stand back in awe at the fire-breathing stunts and juggling! It's here where you can anoint your family's "Lord of Misrule", and if you're feeling peckish after all that excitement, grab yourself a marshmallow to roast on the flickering fire. Grownups might also want to treat themselves to a cheeky mulled wine (or 2!). Tasty treats all round.
This is a perfect chance to enjoy an unforgettable evening with your family, where music, storytelling, dazzling performances, and scrumptious food and drinks come together to create an all round heart-warming experience to get you in the mood for the most wonderful time of the year. Winter Solstice on the 22 December sees a few extra surprises, with more whirling music, a torchlit procession, and extra performance.
Yuletide at Tatton Park is suitable for families with youngsters and adults of all ages. So wrap up warm and book your tickets ASAP to avoid missing out on this stunning event.