The Great Northern Giant Sandpit
Shekina Rose, Families Editor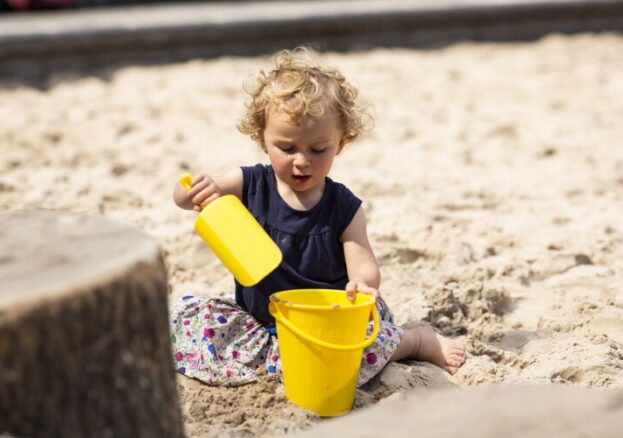 Are you looking for a fun and free day out with your family? Do you fancy a trip to the beach but it's just a bit too far to travel? Or perhaps you have shopping to do in the city centre and you also want to find an activity to keep the kids happy?
Head the Great Northern Playhouse this summer, where you'll find a family-friendly space providing a creative, safe environment for young people to enjoy. Completely outdoors, the playhouse is COVID-safe and a perfect place to go on a sunny day. Recently redecorated by Manchester street artist, Moze, the area now boasts splashes of colour and flower patterns, giving it a bright and airy vibe that feels perfect for those warm summer days.
One of the main features at the Great Northern is the popular Great Northern Sandpit, located in the basin of the amphitheatre. With its 50 tonnes of soft sand, wooden logs, buckets and spades for digging and building amazing sandcastles, here, you can expect hours and hours of free entertainment for children.
What's even better, is while your child plays and has fun in the Great Northern Sandpit, it's time for you to sit back and relax in the sun. Bring your tastiest sandwiches, crisps, biscuits (and fruit if you're feeling healthy), and find a comfortable seat on one of the many colourful picnic benches dotted around the amphitheatre. Alternatively, you could also book onto one of Great Northern's popular cafes and restaurants, including Almost Famous, All Star Lanes and Evuna.
After a long day of digging and playing in the sand, you could also head to the Great Northern cinema and see what family friendly films are available to watch with your little ones.
The Great Northern Sandpit is free and booking is not required.  Simply turn up, get your spades out, and have fun!