Wave-Field at Lyceum Square
Sarah Gaffney-Lang, Families Editor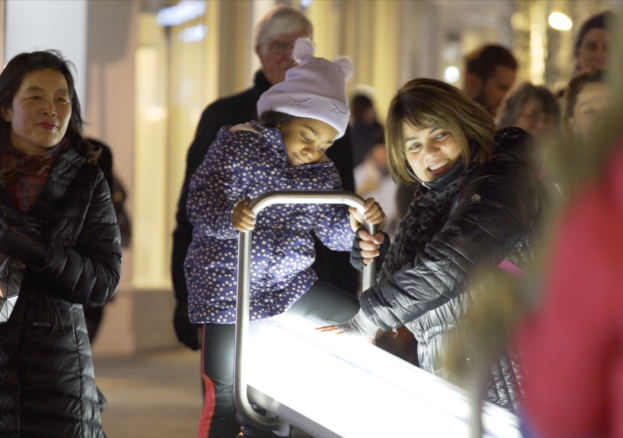 If you enjoy getting interactive with your art then climb aboard Wave-Field! This playful installation, hosted in Lyceum Square outside the Lyceum Theatre in Crewe, intends to make art accessible to all and encourages visitors to become active participants.
Made up of musical, light up seesaws Wave-Field is the brainchild of Canadian designers from Lateral Office and CS Design, with a soundscape by Toronto composer Mitchell Akiyama. This unique exhibition has enjoyed success travelling the world and will visit other cities and towns on its UK tour including Leeds, Salford and Blackpool.
When motionless, the seesaws are dimly lit and emit a low sound, creating curiosity in passers-by of all ages, who are then invited to interact and experiment. Once visitors bring the seesaws to life they burst into sound and light, which becomes richer as more users partner up, encouraging interactions between friends, family and strangers.
Wave-Field will visit Crewe, thanks to support from Cheshire East Council, Arts Council England, Crewe Town Council, and Quays Culture. Wave-Field's tour to Crewe will coincide with Lumen, Crewe's Night of Lights, organised by the Town Council. Councillor Nick Mannion, cabinet member with responsibility for cultural economy, said:
"The addition of these interactive, musical seesaws will allow both residents and visitors to interact with their children, friends, family or to engage with a stranger for a unique experience – bringing an art installation to life."
I can already hear my children asking why the normal playground isn't bursting with light and music next time we visit. Be prepared for Wave-Field to ruin normal seesaws forever more, but well worth it I'd say!
Wave-Field will be hosted in Lyceum Square, in Crewe until 1st December. It is a free event that will be open from 3pm – 8pm on weekdays and 11am – 8pm on weekends.