Vital Signs Festival at New Adephi Studio Theatre, Salford
Sarah-Clare Conlon, Literature Editor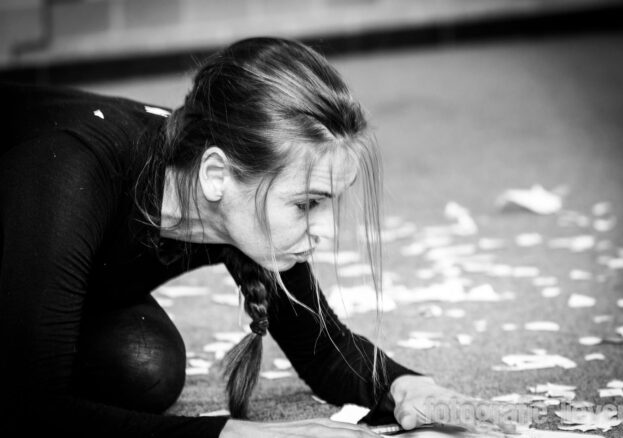 Imagined as a "creative playground for artists working across movement and creative writing", the 2018 Vital Signs festival runs over three days at the University of Salford's fancy New Adelphi building and offers a rich programme of workshops, performances, readings and open labs.
Providing the encouragement, inspiration and space for writers, movers and artists to share, connect, play and discover, interdisciplinary and transdisciplinary collaboration is go, with the project the brainchild of long-standing collaborators poet Scott Thurston (of The Other Room reading series) and choreographer Sarie Mairs Slee.
The pair will be sharing the techniques they have developed for working across, between and beyond the disciplines of movement and poetic writing in a session on Sunday at 10am, Vital Signs: Strategies for Integrating Poetry and Movement in Performance. They will also be presenting A Poem in Four Movements: Wrestling Truth as part of the Saturday-night performance slot, starting at 7.30pm (the other half being taken up by poet, artist and researcher Alison Gibb and dancer/choreographer Elaine Thomas with Making S p a c e s – a performance combining dance, video projection, poetry and sound; themselves leading a workshop earlier in the day).
Other workshops will be run by Diane Amans, dance artist, choreographer, author and training consultant, and John Killick, poet, author and creative writing tutor, who will be exploring how language emerges out of the sounding, moving body, plus Camilla Nelson. We're also looking forward to the British language artist, occasional lecturer, curator, workshop leader and editor kicking off Friday's evening performances at 7pm with a solo movement language piece that "physically and sonically disrupts, extends and transforms the act of reading".
Following Camilla on Friday night is Mary Pearson with her piece FoMO, mofos! (Fear of Missing Out, mother***ers!) – "a murder mystery seen through a kaleidoscope". A multidisciplinary performance maker, she will also be hosting an Open Lab: Digest, Explore, Integrate (Sunday noon); a final, improvisatory session exploring and connecting everything learned and experienced throughout the festival weekend, which is being brought to life with funding support from Arts Council England.