Vanishing Twin at The White Hotel
Johnny James, Managing Editor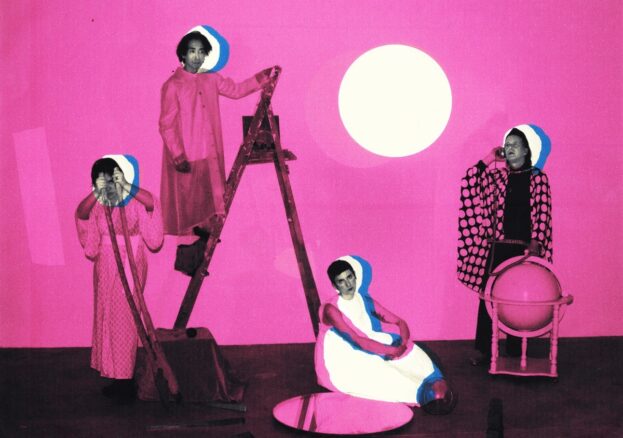 In support of their new album Ookii Gekkou, East London's Vanishing Twin are bringing their surreal psychedelia to The White Hotel.
There's a mystery to Vanishing Twin – from their name to the multitude of sounds that inhabit their music. They don't sound like many but they hint at plenty; even the briefest exposure starts a tick list of the weird and beautiful – from Sun Ra to Alice Coltrane, Martin Denny to Morricone, Can's Holger Czukay to meditative Gamelan. Locked into their strangely accessible groove is a history of 'other' sound, a crafted hauntology that evinces something new.
The band formed in East London in 2015, uniting over a love of old records, unusual sounds and the desire to create an artistic universe that linked sound and image. Their debut album, Choose Your Own Adventure, offered a heady voyage across time and space spanning everything from jazz to 60's pop to early radiophonic experimentation; singer and producer Cathy Lucas' warm, summery voice was the only constant thread. The opening song told the story of her vanishing twin – a sibling resorbed during pregnancy – and gave the band its name.
That album, though super niche, did draw obvious comparisons to groups like Broadcast and Stereolab. Their second, The Age Of Immunology, was harder to pin down. With a magpie-like approach to genre, the band laced together everything from Brazilian psych-jazz to narcotic northern soul, taking us on a surreal utopian odyssey that cast one eye on past musical glories and another on the future, asking, what next?
What next was Ookii Gekkou, an album dreamt up and realised during lockdown – a kind of dream catcher for the strangeness, the unsettledness, and the science fiction of the past year. It opens in whimsical style with oddball pop singles 'Big Moonlight (Ookii Gekkou)' and 'Phase One Million', before descending into the avant-garde as the album progresses With each tune, the band add to their ever-expanding palette of sound (no mean feat at this stage), with astral bloops, skittering xylophones and merry-go-round synths floating in the hazy space between this world and an another, parallel one.
It's a great release from one of the most interesting bands in UK psychedelia right now – well worth a listen, and well worth checking out live at The White Hotel.