Urban Buddies, Mandarin Language Walking Tour
Carmel Smickersgill, Tours & Activities Editor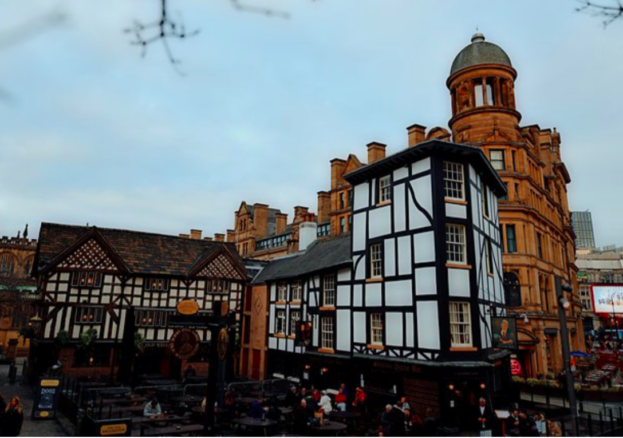 Manchester has a booming community of Mandarin speakers. Starting with those who settled here generations ago and growing still with new students arriving every year, to call this city home. RobinGo has started Urban Buddies, a Mandarin speaking, two hour, in-depth tour of Manchester for locals and tourists alike. Let yourself be transported through the making of this great city into its industrial renaissance and beyond into the exciting future.
Every Saturday, starting at 1 pm at Castlefield, you'll meet among the Roman ruins of Manchester's conception, and make your way towards the influential buildings, monuments and streets that mark out eras of human civilization.
Some of the places you'll visit en route include Manchester's Medieval Cathedral, which still retains some of its original 15th century features as well as later additions including incredible stained glass windows and an impressive organ. You'll also Visit Chetham's Library, the oldest English Language library in the world and a building that is soaked in historical significance. It was the place where Marx and Engels first worked on the communist manifesto as well as being free at the point of use for the public for centuries.
a great way to discover Manchester as a Mandarin speaker, with the benefit of hearing about the city in a first language
Moving forward in time, you'll visit Victoria station, one of Manchester's main train stations that still retains many of its Victorian features. You can imagine the lives of those waiting in the first class lounge while the lower classes queued at the wooden ticket booths. You can also visit the 1830 railway station. Found inside the Science and Industry Museum, the 1830 is the first railway station in human history and a relic from an era when Manchester was an international front runner in technological advancements.
You'll also visit the Football Museum. Although the beautiful game is now the international phenomenon that we all know and love, football's humble roots started in Manchester where the Football Association was formed and the original rules were written up. Learn how it developed, discriminated and evolved to become the world wide success it is today.
Whether you're visiting, studying or local and looking to learn about the city you've lived in greater depth. Urban Buddies is a great way to discover Manchester as a Mandarin speaker.