The University of Manchester Community Festival 2023
Creative Tourist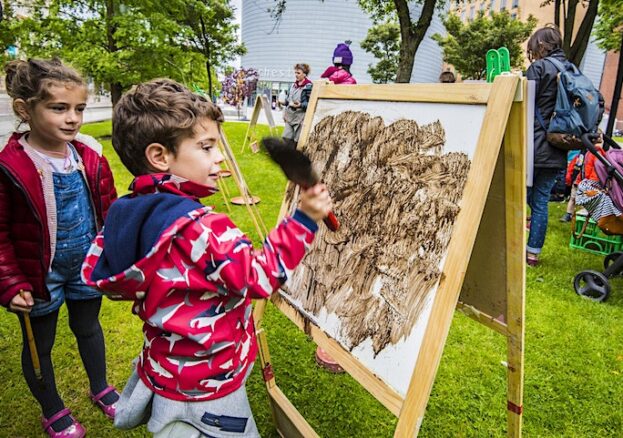 The University of Manchester Community Festival is firmly-established as a treasure trove for curious minds of all ages and it's back again for 2023. This free day-long festival is a fun-packed way to explore the work taking place at one of the nation's greatest institutions. Whether you're interested in science, art, engineering or history, there are plenty of hands-on family-friendly activities, and opportunities for discovery.
A fun-packed way to explore the work of one of the nation's greatest institutions
It all begins on Saturday 10 June at 11:00 am and runs through the day up to 4:00 pm. But what can you expect? As ever, the 2023 Community Festival programme is full of opportunities to peek behind the scenes, get inspired with staff, students and community partners, and learn a little about how The University of Manchester maintains its position as a leader in pioneering teaching and research. Look out for captivating performances, workshops, tours and activities across various university buildings, including the world-renowned Manchester Museum.
See for yourself with this video from last year's event:
This year there's even more on offer. Want to get your hands dirty? Dive into the hidden world of microbes, where you'll get to explore the microbes all around us, in the soil, on our phones and on our skin. Investigate how microbes interact and share information with one another and take away a copy of a comic dedicated to bizarre bacteria and peculiar plasmids.
Sports fan? Come and test your penalty-taking and kick-and-stick dartboard skills, and even get the chance to win a prize with SPORT Manchester.
There are multiple events looking into the human body – gain a deeper understanding of the human heart by crawling through the blood vessel tunnel; or uncover the secrets of the ear using audiology equipment, and see if you can shout as loud as a parrot! If skin and bone is your thing, there's an activity for that – make a DNA bracelet, look under your skin using a thermal imaging camera and much, much more.
Curious about what goes on before you're born? Find out what the placenta does and how we can monitor and treat placentas that are not working properly to ensure healthy babies.
Little ones can take part in the Outdoor Art Club, where a local artist leads under 5s in Forest School-inspired outdoor play. This workshop brings art, nature and creativity together in a big old messy mix!
Older kids might want to check out the virtual reality activities. This is where they can explore fully immersive, interactive virtual environments for medical education, machine learning for music and virtual museums. They can also experience swimming with dolphins, walking a plank 500ft above the ground and other fun activities.
This vast, interactive festival of discovery and creativity has something for everybody
There are other mini-events devoted to all kinds of weird and wonderful things, such as killer fungus, space rocks, graphene and linguistics. And let's not forget cress – you'll be able to make your very own cress head to take home, so you and your family can have a tasty snack from something created using your very own green fingers.
And why not join them for science story time? Here, the festival team have hand-picked popular children's books so together everyone can discover the science hidden in a book.
All ages are catered for, with interactive science experiments, creative sessions, poetry, and music performances, a photography competition, storytime, forestry school, sporting challenges, heritage tours, face-painting, a helter-skelter for that festival feel… and much, much more!
The only thing you'll struggle with is deciding which activity to do first. This vast, interactive festival of discovery and creativity really does have something for everybody.
To attend simply register for free via the 'Find out more' button below, where you'll also be able to click through to the entire programme of activities.