The Waeve at Band on the Wall
Johnny James, Managing Editor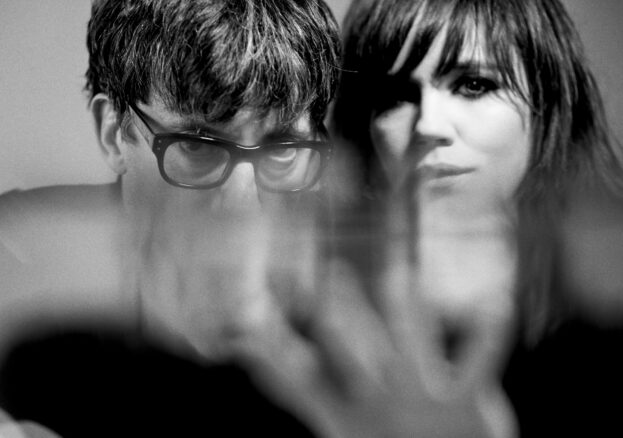 Graham Coxon and Rose Elinor Dougall bring their new project, The Weave, to Band on the Wall on 20 March.
A nuanced exploration of dreamy, foreboding folk rock, the eponymous first record from The Waeve is not one you might expect from Coxon, a Britpop guitar hero, nor Dougall, a onetime '50s girl-group revivalist. Not that anyone expected anything. They only met a couple of years ago, in that weird period immediately after lockdown when the country, with a kind of glassy-eyed bewilderment, toasted the grand arrival of 'normality'. That was odd, wasn't it?
Anyway, the pair met backstage at a show in London, swapped playlists and discovered their mutual love for British folk music. "Within a week we were recording", says Coxon. "Our work was exploratory. Two people asked questions of each other, and as a consequence the void became less yawning. Music was created, and these two voices in the songs became two people: Rose and I." Sidenote – that's Rose, I, and the baby, now, if you're interested…
While collaborative projects by real-life couples can easily fall into schmaltzy territory, this one's mostly saved from that by the foreboding character of the music (helped by edgy orchestration from the Elysian Quartet). Not to mention the almost pagan lyrics, which draw on a long lineage of folk horror in British film and music, from The Wicker Man to The Incredible String Band. Think images of "jagged shores", "ancient tides", "silver moons" and you're in the right ballpark.
As the captivating opening track 'Can I Call You' kicks in, first as a ballad and then as a krauty motorik trip, we notice the surprisingly sparse use of guitars, Coxon instead opting for often-very-dissonant saxophones – the instrument he played in his first ever band with Blur's Damon Albarn back in the '80s. Dougall, meanwhile, plays the piano and an ARP 2000 modular synth, which propels that opening track forward with the energy of some ecstatic ritual as the pair swap and then share vocal duties, their voices, though starkly different, perfectly complimenting one another (hers, strong, velvety, deep; his, twangy, faltering and vulnerable).
From the off, the chemistry between the two musicians is palpable and electric, and it continues through most of the record, whose heavy weather recalls the blustery folk rock of Sandy Denny or John & Beverly Martyn. Tracks like 'Kill Me Again' also lean on the '70s rock of Kevin Ayers or Van der Graaf Generator, almost industrial in places, with Coxon's saxophone squalls offering deranged commentary on Dougall's brooding synth pulses. The vocal melodies on this one are wonderful, too. Childlike but somehow off-kilter… a little whisp of magic you can't quite put your finger on…
The rest of the album weaves (yep) through an array of sounds and textures, from moody post punk to cinematic balladry, and yet it all exists within the same, disquietingly beautiful musical world the pair have so quickly created together.
Get it while it's hot. The Waeve perform their first ever Manchester show at Band on the Wall on 20 March, and tickets probably won't be around for too long.