The Smile at The Apollo
Johnny James, Managing Editor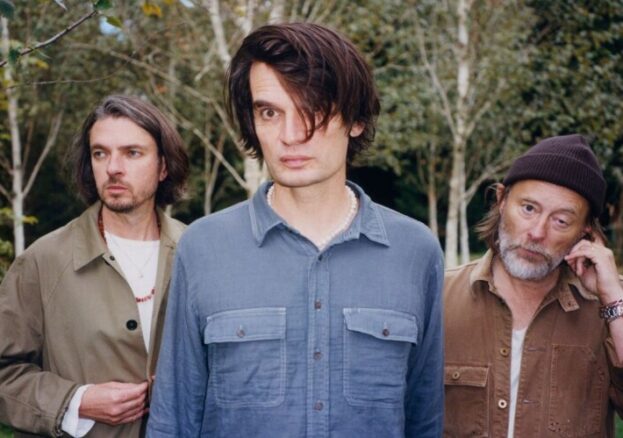 Radiohead side project The Smile – featuring the Oxford band's Thom Yorke and Jonny Greenwood along with former Sons of Kemet drummer Tom Skinner – have announced a second album and an accompanying tour, coming to The Apollo on 19 March 2024.
The Smile marks the first time Yorke and Greenwood – the left and right brain of Radiohead – have collaborated on a major project outside of their main gig. It follows that it hugs closer to the mothership than any of the side projects a Radiohead member has pursued alone; while Tom Skinner's loose, jazzy beats do subtly tilt the axis, The Smile feels like more of a continuation, maybe even a consolidation, of Radiohead's output.
Treading their own long shadow, The Smile's first record, A Light for Attracting Attention, dwelt in the darkest corners of modern life, a crossfire scanning various shadowy political figures and authoritarianism more widely, with Yorke acting as a kind of dystopian seer. It varied wildly in style and energy, from the yowling, grungy punk of 'You Will Never Work in Television Again' to the elegiac 'Free In The Knowledge' – surely up there with the most beautiful tracks to come from Yorke's pen.
It was garlanded with praise from every corner, and saw the band tour around the world, releasing a couple of live albums as they went. Then in 2022, just a few months after the album release, an epic, eight-minute single called 'Bending Hectic' landed from nowhere, signalling the band already had more up their sleeve. Indeed they did: Wall of Eyes is cued for release on 26 January 2024.
Ahead of this the trio have shared the video for the album's title track, which sees the return of director Paul Thomas Anderson, who previously helmed Yorke's Anima short film along with Radiohead's 'Daydreaming' video. It features Yorke in time-lapse as he moves through crowded streets and bars, his expression unchanging. Musically the track is acoustic, with sparse orchestral elements (including Greenwood's cherished strings, recorded by the London Contemporary Orchestra) bringing an icy beauty to Yorke's 'House of Cards'-style guitar strums and long, aching vocal melodies.
The tracklist for the rest of the album features a handful of songs the band road-tested while on the first album tour ('Teleharmonic', 'Read the Room', 'Under Our Pillows' and 'Friend of a Friend', if you want to check them on YouTube'). But as their followers know and love, Yorke and Greenwood are prone to changing songs drastically in a live setting, so it's still up in the air as to what the album's going to sound like.
But there's one thing the album isn't going to sound like: the work of longtime collaborator and producer – but absentee on this record – Nigel Godrich. Instead, Sam Petts-Davies, who co-produced Yorke's Suspiria soundtrack with the singer, takes the reins for Wall of Eyes, which was recorded between Oxford and Abbey Road Studios. Considering their members' infamous aversion to repeating themselves, it makes sense that The Smile would shake up their process for album number two, and it only ramps up the excitement over what comes next.