The Hired Man at Oldham Coliseum
Kristy Stott, Theatre Editor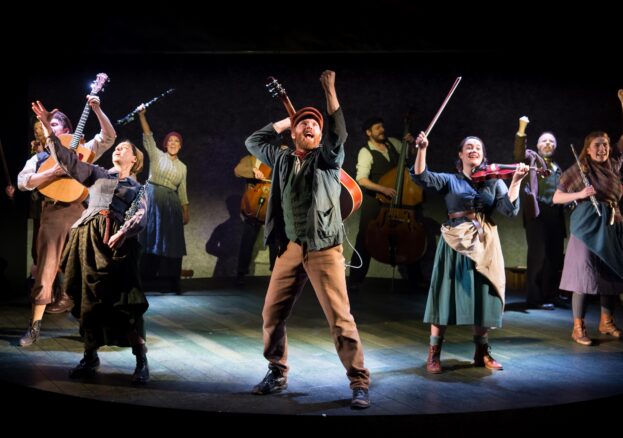 Special Creative Tourist Offer: £15 (valid for all evening performances except Thurs 20 June). To book use the code CT15 online or by calling the box office on 0161 624 2829.
Based on Melvin Bragg's literary work, The Hired Man is an award-winning musical – an epic and heroic tale of love, betrayal and loyalty, set against a backdrop of working-class ritual and English tradition. Now in a major new revival by Oldham Coliseum, Queen's Theatre, Hornchurch and Hull Truck, The Hired Man comes to Oldham.
Set during the first part of the twentieth century, The Hired Man is a tale of Cumbrian rural and industrial working life. Think ritual-whippet racing, hiring fairs, drinking bouts and union meetings. This musical revisits that cavalcade of British history which swept us into the twentieth century and into a war to end all wars.
This is the passionate story of John Tallentire and his wife Emily, a young couple and their enduring struggle to carve out a living from the land. Perhaps most poignantly, John was Bragg's real-life grandfather and The Hired Man is Bragg's personal account of his grandparent's tough existence in the Cumbrian fells at the turn of the twentieth century.
In 1984 Bragg collaborated with the English composer Howard Goodall (Bend It Like Beckham and Love Story) and the novel was turned into an award-winning musical. With vigorous foot-stomping rhythms, soaring choruses and a phenomenal musical score, some audience members have dubbed it the best British musical in the last 40 years.
During its West End run of 1984, The Hired Man was awarded the Ivor Novello Award for Best Musical, earned four Olivier Award nominations, and was voted Best Musical of the Year by the critics of Time Out, The Guardian and The Stage.
The Hired Man is a Queen's Theatre Hornchurch and Hull Truck Theatre production in association with the Coliseum. Directed by Douglas Rintoul (Queen's Theatre and longstanding member of Complicite), we absolutely cannot wait to see The Hired Man on Oldham's stage.