The Hepworth Prize for Sculpture 2018 at The Hepworth Wakefield
Sara Jaspan, Exhibitions Editor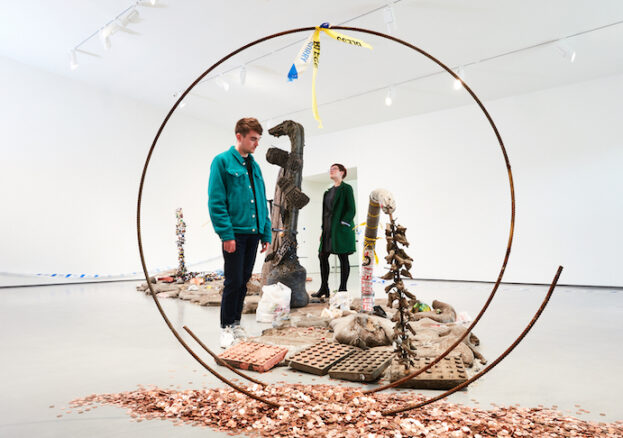 Following the great success of the inaugural Hepworth Prize for Sculpture in 2016 (bagged by Helen Marten), the second edition of the biannual exhibition and award is hotly anticipated. The prize is open to British and UK-based artists of any age and will this year be judged by a panel of directors and senior curators from four of the country's leading art organisations.
The five shortlisted artists include: Michael Dean, Mona Hatoum, Magali Reus, Phillip Lai and Cerith Wyn Evan. Each will present newly commissioned work which will remain on public display until 20 January 2019, though the overall winner will be announced on 15 November 2018. Director of The Hepworth Wakefield, Simon Wallis, has described sculpture as "one of the most significant and rewarding visual art forms of our time," and we're inclined to agree, which is why we're very excited to see what the 2018 iteration has in store.
Two intersecting arcs of glass crystal musical flutes suspended in the gallery space and powered by mechanical lungs that inhale and exhale according to a specially-conceived algorithm will perform a new musical composition by Cerith Wyn Evans. The Welsh conceptual artist has often sought to push beyond a simply three-dimensional understanding of sculpture through his emphasis on light and time, whilst using sound and installation to affect audiences' experience of space.
Described as one of the most powerful and important artists of her generation, Mona Hatoum will show two new sculptures alongside significant earlier works. The Beirut born Palestinian multimedia artist is known for her deeply poetic and political approach to exploring the contradictions and conflicts of the world we live in. Both works will reference her iconic neon globe, playing with shifts of scale and materials to destabilise audiences' perceptions.
Building materials, coins, crime scene tape, padlocks, and, most recently, the three-day food bank emergency allowance currently provided to a family of four in the UK, have all formed part of Michael Dean's sculptural 'moments of intensity', made from the matter of contemporary life. For Hepworth Prize for Sculpture 2018, the artist will present a new installation extending his sculptural investigations in which he translates his own writing into physical form – from letter-like human-scale figures in concrete and steel reinforcement, to self-published books deployed as sculptural elements.
Dutch artist Magali Reus will continue her exploration of the decline of use-value and functionality in contemporary society through a new installation and sculpture series featuring woven fire hoses and nozzles with amorphous elements cast in fibreglass with metal appendages. The commission will sit alongside four works from her recent Dearest series, which incorporate re-imagined ladders, hats and bottles in sculptural configurations that cast them as protagonists in the delivery of a romantic serenade.
Tapping into a related set of themes around the value of production and labour, as well as hospitality, Malaysian-born artist Phillip Lai will debut a major new work consisting of a series of stacked cast polyurethane basins, which will unfold across one long wall of the gallery space. Lai describes these objects as images of an 'absurd expenditure of labour', their accumulation invoking both the protracted processes of the artist and the construction activity implied by their cement-marked surfaces.
Though drawn together by their innovative approaches to contemporary sculpture, each of the five artists shortlisted for this year's prize range broadly in terms of cultural background and artistic concerns – suggesting that the 2018 exhibition should offer an exciting and dynamic picture of the discipline as it stands today. Perhaps it's interesting to consider who Barbara Hepworth herself would have marked down as her favourite to win the £30,000 award.