Unquiet: Speakers Corner Quartet with Manchester Camerata and Robert Ames at New Century Hall
Johnny James, Managing Editor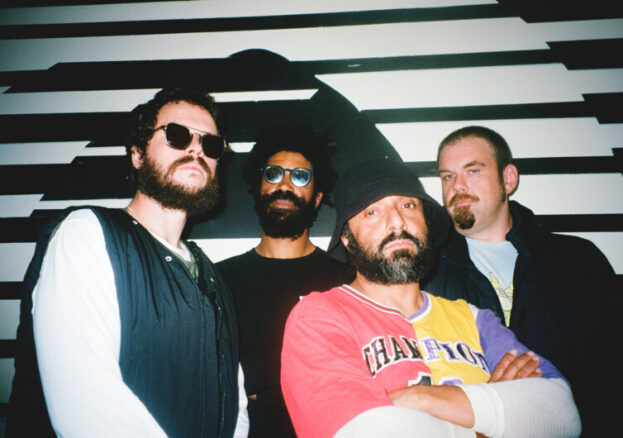 Speakers Corner Quartet, Manchester Camerata and Robert Ames – three creative forces to be reckoned with – will come together for a special performance at New Century this November.
UNQUIET is Manchester Camerata's "series of Manchester firsts, for the brave and the curious". It sees the orchestra working with a rotating cast of contemporary artists, from Carmen Villain to Afrodeutsche, bringing fresh collaborations and world premieres to Manchester and beyond.
The latest event in the series represents the first ever orchestral show by Speakers Corner Quartet. The South London collective started out as the house band at the legendary Brixton spoken word and hip hop night Speakers Corner back in 2006, before going on to collaborate (on stage and in the studio) with some of the most exciting names in independent music, including Sampha, Kae Tempest, Tirzah, Dean Blunt, Lianne La Havis and the late MF DOOM.
The Quartet – Biscuit on flute, Kwake Bass on drums & percussion, Raven Bush on violin, and Peter Bennie on bass – released their debut album in summer 2023. The critically acclaimed Further Out Than The Edge comprises a myriad of sounds and influences, taking in electronic production, hip hop, sample culture, jazz and classical – all contained within a smoky, cinematic atmosphere that is the Quartet's own.
A collaborative spirit guides the record, whose list of guest artists read like a who's who of the South London scene – Tirzah, Kelsey Lu, Shabaka Hutchings, Coby Sey, Sampha, Kae Tempest, Mica Levi, Joe Armon Jones, Lawfawndah, Léa Sen, the list goes on. A number of these artists (plus some fresh faces) will take to the New Century Stage along with the trailblazing Manchester Camerata, named "Britain's most adventurous orchestra" by the Times.
This new orchestral context should suit the Quartet's atmospheric music hand in glove. "We have always seen ourselves working with orchestras" they say. "Cinematic milieu surrounds Speakers Corner Quartet and in fact is on the list of our next endeavours. Working with Manchester Camerata is a clear beeline for our orchestral aspirations. This will be our first show in Manchester and feels special to be doing this with Robert Ames and such a prestigious outfit as the Manchester Camerata."
Internationally renowned conductor Martin Ames will bring his own vision to the proceedings. He's synonymous with collaborations in this sphere, having previously worked with the likes of Frank Ocean, Actress and Sigur Rós. Speaking on this show, Ames says: "Working with such a fantastic act to give the world premiere of an orchestral show feels exactly like the collaboration between artists and modern orchestras that should be happening today".
Ames is right. These kinds of collaborations, where everything feels fresh and experimental, are always exciting, and hold that kind of one-off experience that really good gigs are made off.
But there's more to look forward to. The show also includes the world premiere of new work by Royal Philharmonic Society composer Blasio Kavuma – written especially for Manchester Camerata and AMC Gospel Choir. Formed in 1993 and developing into one of the UK's leading gospel choirs, AMC Gospel Choir rose to prominence on BBC1's hit show Last Choir Standing in 2008, before performing throughout the UK and Europe, and, closer to home, with the likes of Haçienda Classical and in the BBC Songs of Praise series. We look forward to hearing them take to the stage in support of the Quartet.
A full list of the performers is below.
Speakers Corner Quartet
Manchester Camerata
Robert Ames Conductor
Coby Sey
Confucius MC
James Massiah
Lea Sen
Leilah
Tawiah
Eska
AMC Gospel Choir