Soweto Gospel Choir at The Stoller Hall
Creative Tourist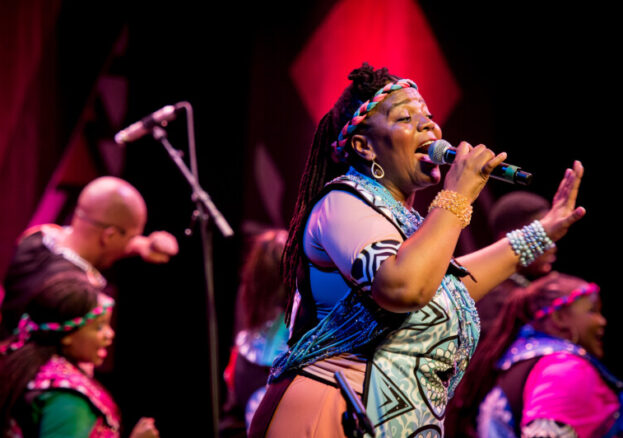 Winner of the 2019 Grammy Award for Best World Music Album for their latest album Freedom, Soweto Gospel Choir head to The Stoller Hall to perform a collection of songs which celebrate and commemorate South Africa's democratic movement.
Comprising a line-up of the foremost talent from the many churches in and around Soweto, a town outside Johannesburg and home of Nelson Mandela and South Africa's democratic movement, the choir have been spreading joy to audiences across the world for nearly two decades. Along the way they've scooped three Grammy Awards and shared stages with some of the biggest names in music: U2, the late Aretha Franklin, Stevie Wonder, Robert Plant, Celine Dion, Red Hot Chili Peppers and Josh Groban.
Choosing repertoire that uplifts the soul and expresses the energy of their homeland, the choir delight audiences with a blend of African gospel, traditional spirituals, and international classics. The common thread is the message: Hope, faith and joy, delivered through glorious harmonies, earthy rhythms, expressive movement and colourful costume – integral parts of life and faith in the South African tradition.
Soweto Gospel Choir's 2018 album Freedom takes them full circle to their debut performance. The group first took to the stage at a historic 2003 concert for international hero and human rights activist Nelson Mandela, and their internationally celebrated album, released hundreds of concerts later, delivers another heartfelt tribute to Mandela, honouring the 100th anniversary of his birth.
Bringing much of this uplifting and joyous repertoire to The Stoller Hall for not one but two performances (5pm and 8pm), the choir will perform a rousing programme of freedom songs celebrating the life of the father of their Rainbow Nation, as well as international gospel classics, including a spine-tingling take on Leonard Cohen's 'Hallelujah' and an extraordinary rendition of 'Amazing Grace', which has had over 17 million views on YouTube.
Garlanded with praise by critics the world over (Melbourne's Herald Sun called one of their concerts "Sheer jubilation – the rhythm of life"; Billboard called them "Absolutely thrilling singers"), it's fair to say we're in for something special on 22 October.
Speaking about the UK leg of their Freedom tour, producer Andrew Kay said:
"The Soweto Gospel Choir members are thrilled to tour the United Kingdom after so many years of absence. The group continues to inspire fans worldwide, but the reaction we get from audiences in the United Kingdom is unforgettable. We hope that our uplifting message of hope, faith and joy reaches audiences new and old on this special return visit as we celebrate the legacy of the great Nelson Mandela."
There are two opportunities to hear the performance, with the first show being at 5pm, and the second at 8pm. Tickets are available via the button below.