Sir Antony Gormley: Field for the British Isles at Northern Gallery for Contemporary Art, Sunderland
Sara Jaspan, Exhibitions Editor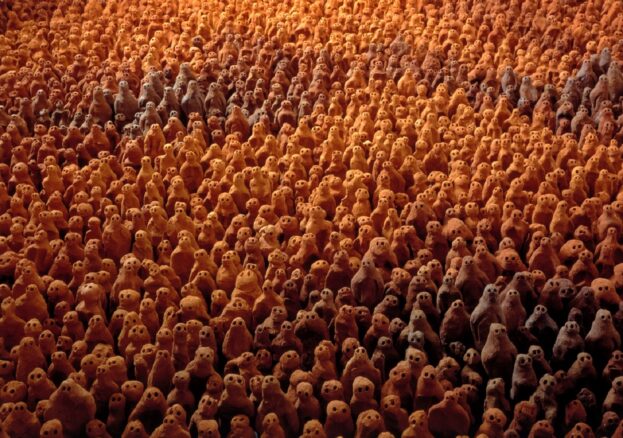 Comprising of around 40,000 small clay figures, Sir Antony Gormley's Field for the British Isles (1993) is a startling sight to behold. And behold is all we can. The gallery installation is always presented in such a way that the vast sea of figures fills the enclosed space in which it is shown, leaving not an inch of floor unoccupied. The viewer is left with no choice but to simply look on from the side-lines, from a single vantage point revealing only a fraction of the full scale of the monumental piece. Along with the Angel of the North, this is one of Gormley's most iconic works and won him the Turner Prize in 1994. Since then, it has been shown throughout the UK, yet its upcoming presentation at Northern Gallery for Contemporary Art (NGCA) in Sunderland marks its first visit to the North East in over 25 years.
In contrast to many of Gormley's other works, the figures in Field are not based on an accurate representation of the human body but a simplified version that references some of the earliest sculptural depictions of the human form (chiming with the artist's background in archaeology). As such, the piece offers a slightly different lens on the human experience, emphasising a collective humanity over the singular being. In line with this, Field was created over five days in collaboration with hundreds of adults and children from Merseyside, who helped mould the palm-sized figures by hand. Other iterations of the piece have been made with brick makers in Mexico, with children in the Amazon basin, and with students and families in Sweden and China. A stipulation for showing the work is that it must be installed with the help of volunteers as a means of maintaining this community aspect. Field was selected from the Arts Council Collection to present at NGCA by Sunderland Culture's Art Champions – a group of nine local people with no formal arts training but a passion and interest to discover more about modern and contemporary art.
In an age when greater collectivity is urgently needed to overcome many of the problems we are facing, this seems an excellent time to return to and meditate upon this major work.