Sean Shibe 'Melancholia' at RNCM
Johnny James, Managing Editor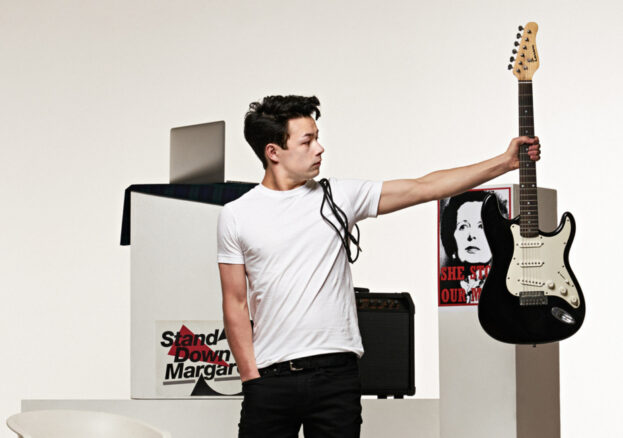 Sean Shibe, one of the foremost guitarists of his generation, is bringing his wild virtuosity and pioneering vision to RNCM this March.
Sean riffs on the chaos and calamity of our times. "There are acts of unspeakable violence everywhere", he says of the modern world. "We need to speak to higher goals and move in different directions to reflect, and to understand how to manifest that reflection." Pouring this fresh thinking into his music, Sean splices together electric and acoustic, early and modern, and uses the resulting contradictions to push his instrument into pioneering new shapes.
Growing up on a worldly-wise diet of contemporary classical and avant-garde jazz, Sean was quick to forge his own fully formed style. His 2017 debut album Dreams and Fancies, featured music from both the Renaissance and the 20th-century. It was hailed by The Herald as "Unmissable", while The Sunday Times gushed that "His playing unites finesse and poetry". Sean's second effort, softLOUD, juxtaposed Scottish lute music (played on acoustic guitar) with electric guitar repertoire by the likes of Steve Reich and David Lang. Bracingly original, the album even got a compliment from Reich himself, who praised Sean for "One of the best recordings of Electric Counterpoint ever!" (and there have been a few!).
Sean's new show Melancholia once again sees him bringing together classical and electric, old and new. The centrepiece here will be Georges Lentz's 2007 piece Ingwe (an Aboriginal word meaning 'night'). This hour-long electric guitar solo was inspired by the composer's trip to the Outback, where in a pub in Brewarrina, he saw a man sitting alone, tuning his electric guitar. This sound, for Lentz, encapsulated the loneliness and desolation of that place, and Ingwe formed before his mind's eye in an intuitive flash. Oscillating between wailing intensity and sand-blasted stillness, it's a formidable piece that places huge demands on its interpreter.
Stepping back in time, Sean will also perform a selection of Fantasies and Galliards for the lute by John Dowland, a Renaissance composer. Rather than simply emulating the lute, Sean will exploit the tensions that naturally arise from combining old music with a new instrument. He'll do something similar in his performance of J S Bach's Suite in E minor BWV 996, the final piece in this programme. One of Bach's earlier works, this was likely written for lute-harpsichord, and transferring it to acoustic guitar poses a number of challenges. A good performance of it demands technical brilliance – something, luckily for us, Sean has in droves.