SCALPING at The White Hotel
Johnny James, Managing Editor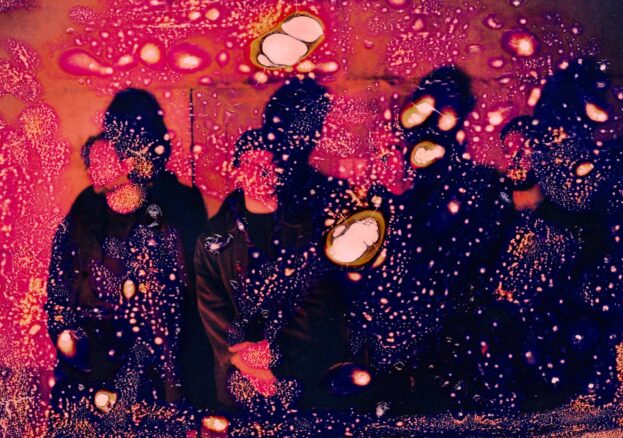 Bristol EBM band SCALPING – purveyors of a pummelling blend of techno, punk, post-rock and metal – are bringing their ferocious live show to The White Hotel this February, supported by Mandy, Indiana. Here's why we're excited.
SCALPING have quickly established themselves among the country's most electrifying live bands, igniting venues and festivals across UK and Europe with a precise, unrelenting energy. The quartet first caught our ears in 2020, after signing to Houndstooth – the in-house record label at London club and electronic music mainstay, Fabric. The first single they released on the label – the blistering, industrial banger 'Deadlock' – saw them feature in the NME 100 for 2021, with critics and fans alike praising the freshness of their musical cocktail in which raucous techno rubs up against gruff, blackened guitars.
In June 2021, SCALPING put out their first full body of work: the EP Flood. It's a powerful statement of intent from a band continuing to defy classification, whilst honing and expanding on their genuinely unique sound. Lead single 'Monolithium' is the sound of SCALPING seizing and maximising their vision as they layer metal/hardcore guitars on top of chugging dance rhythms and industrial-sounding synths. It's a cataclysm of sound and yet there's a sense of total control exerted over it.
The pneumatic, crushing weight of 'The Perimeter' is constantly cranked up, increasing in volume, depth and power, eventually forcing out a trance-metal hybrid gemstone, displaying SCALPING's ability to forge anything they choose from whichever genres they feel like. 'Cloudburst's throbbing acid synth line provides a more straightforward dancefloor-orientated sound while still maintaining dizzying energy and ruthless propulsion. The closing 'Empty Cascade', meanwhile, serves up a perfect combination of rave fundamentals and straight up system-blowing sludge.
Listen to SCALPING's music, and it's clear that it's made for live shows – notoriously intense live shows. The band's sets are accompanied by live visual art surrounding sci-fi, horror and shock humour. They see visual artist Jason Baker as a fifth member of the band, and indeed his presence elevates the spectacle to new heights, bringing a surreal, dystopian visual element to the sonic assault. And where would such a bleak spectacle find a better home than Salford den of debauchery, The White Hotel? There, on 17 February, the band will be supported by Mandy, Indiana – one of Manchester's most exciting new bands, who mix coarse industrialism, squalling feedback and contorted electronics.
So, that's all boxes ticked, then: An amazing headliner, the perfect support and the city's coolest venue.