Richard Dawson at New Century
Johnny James, Managing Editor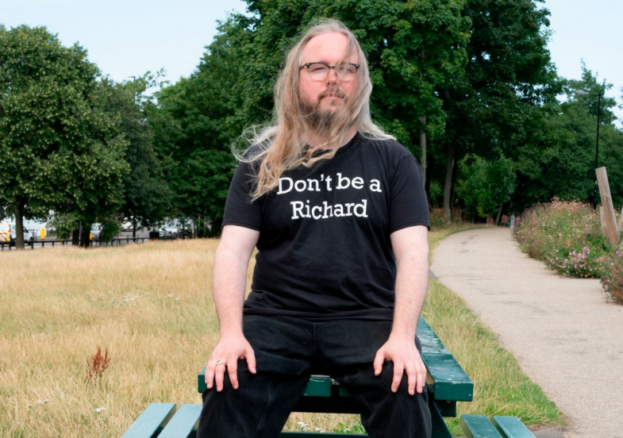 Richard Dawson, one of Britain's best, most humane songwriters, returns to Manchester for the first time since the release of his celebrated seventh album, The Ruby Cord. Here's why it's one of the gigs we're most looking forward to in 2023.
These days, nearly every artist is billed as 'unique', a 'one-off'. With Richard Dawson, these adjectives don't feel like hyperbole. The black-humoured bard of Newcastle has spent the last few decades building an esoteric catalogue of music and storytelling that sounds like it was beamed from another era, while speaking presciently to this one.
2022's The Ruby Cord is the conclusion of a trilogy. It began in 2017 when Dawson became that year's least likely critical success story with off-the-wall folk record Peasant – a dense kaleidoscope of six century character studies set in the kingdom of Bryneich, known today as Dawson's native North-East. The music was cast within gnarled, sprawling shapes, recalling everyone from avant-garde guitar pioneer Derek Bailey to late-era Scott Walker, while the lyrics weaved stories of grieving beggars and vengeful sex workers facing down the malice of their oppressors.
A creative handbrake turn came with the 2019 album, 2020. Like Peasant it chronicled the everyday struggles of characters dwelling in the forgotten underbellies of society. But these were contemporary character studies, and together they formulated a state-of-the-nation address to a country increasingly ill at ease with itself.
Staggering from avant-folk to noise rock via lo-fi indie, 2020 was released just prior to the pandemic, but its underlying themes of anxiety, the nation's collective psychic crisis and a gradual slide into dystopia spoke presciently to the country's disarray. Dawson's voice, powerful and cracked, conveyed incredible tenderness as he located the same desperation in very different people, from the suffering Amazon warehouse worker to the civil servant made hysterical by the cruelty of the austerity measures they are forced to carry out.
Having dedicated most of 2021 to a typically obscure, plant-themed collaboration with Finnish metal group Circle, Dawson finally completed his album trilogy in 2022. We'd had the past (Peasant), we'd had the present (2020). Only one way forward for The Ruby Cord, which envisions a distant future dominated by virtual realities. Its lyrics were conceived throughout the various Covid-19 lockdowns, as the side effects of isolation and state-imposed inwardness affected millions around the world. The resulting seven tracks plunge us into a fantastic, often sinister future where social mores have mutated and ethical and physical boundaries have evaporated; a place where you no longer need to engage with anyone but yourself and your own imagination.
Speaking about the themes of the record, Dawson says:
"So many of us are moving into these fantasy worlds… Whether it's actual constructed virtual realities, computer worlds, or retreating into even more fantastical realms, conspiracy theories, nationalism, amateur football punditry. People construct their own world because this one is so flawed."
A fog of sickness, trauma and mute inevitability inhabits The Ruby Cord and indeed all of Dawson's work. This is often expressed in the metal-like aggression with which his attacks his long-suffering guitar, an instrument as bruised, individual and indefatigable as its owner. Coupled with the rawness of his voice, grating in an almost painful wail at some points, whispering at others, and you have a live show that feels forever on-the-edge, thrilling, dangerous. We've been lucky to catch Dawson live a few times now, and he's a remarkable performer, and endearingly humble about it. If you like his songs on record, we heartily recommend you go and watch him at New Century on 25 April, because the stage is where his music really comes to life.