Refloresta! Maria Nepomuceno at The Portico Library in Manchester
Creative Tourist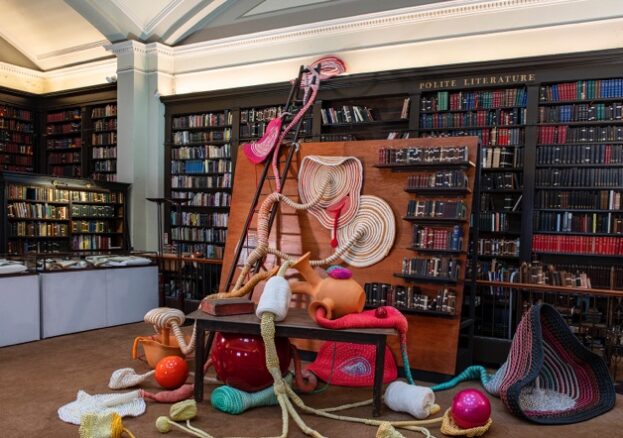 Despite the contents of the books it may house, a library is rarely somewhere you would expect to find bursting with energy, life and colour. But step into the normally hushed and tranquil setting of The Portico this summer and this exactly what you'll find. The historic library is celebrating Manchester's post-pandemic cultural recovery with Reflorista! (Reforest!) – an exuberant and joyful exhibition featuring the work of celebrated Brazilian artist Maria Nepomuceno.
Nepomuceno is known for her playful, irresistibly tactile, carnival-esque sculptures which she creates using traditional rope weaving and straw braiding techniques, as well as a self-devised method of sewing coils of coloured rope in spirals. Each sprawling piece has an organic, animate quality, suggesting flora, fauna and the human body, as well as the microscopic world through to the macrocosmic. The work is exhibited throughout the main reading room, creating an immersive environment, and presented alongside natural history books and archive materials from the Library's 19th-century collection illustrating Manchester's international and colonial connections during the city's formative years.
The ropes that thread throughout Nepomuceno's work form an important symbol of connection, specifically channelled through the act of collaboration. The artist has worked with indigenous Huni Kuin people in the north of Brazil and often collaborates with local community groups wherever she exhibits. For her Manchester show, this spirit of openness and reciprocity will continue through the provision of materials for visitors to create drawings of themselves and their friends that will then be added to the exhibition as part of an evolving display throughout the summer. Free drawing sessions will also be held on Wednesday afternoons with free materials supplied (booking required).
After the bleakness of the year that's past, the uplifting vitality of Nepomuceno's work is a welcome gift.