Queens of the Stone Age at AO Arena
Johnny James, Managing Editor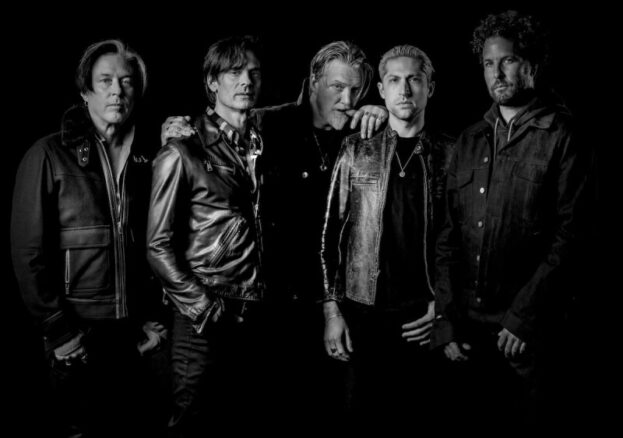 Emerging from the stoner rock underground of the 1990s to become one of the 21st century's foremost heavy rock bands, Queens of the Stone Age are back.
In the run-up to their headline show on Glastonbury's Other Stage last summer, Josh Homme and co dropped their long awaited 8th album, In Times New Roman. It arrived to massive fanfare, followers revelling in the band's return to their sleezy, brutal and rough-around-the-edges roots. Then came a characteristically bizarre video of a man dressed as a knight moaning in pleasure while sinking his face into a cake. A press release confirmed the video heralded a world tour. Obviously.
It's no secret that Josh Homme has faced his share of demons since the release of the 2017 somewhat marmite album Villains: cancer, divorce, rehab, court battles, the death of many friends. What, as a musician, do you do with all that dark energy? You regroup with your closest circle and you do what you've always done: you get to work, not shying from your experiences but using them – in this case to craft a bleak, barbed, blackly nihilistic record, but one that also manages to be… well… a hell of a lot of fun.
In Times New Roman is the rawest and – naturally – darkest QOTSA have sounded in years, harking back to their brooding mid-era albums Lullabies to Paralyze and Eva Vulgaris, while expanding and embellishing their sonic signature with subtle new twists. 'Emotion Sickness', the first single, wraps listeners in a warm blanket of patented QOTSA hypnotic choruses and off kilter grooves – punctuated by tinges of psychic turbulence. Next came 'Carnavoyeur', a trippy, sexy, Bowie-indebted track that sees the band reach new levels of badassery.
Across the rest of the record the song-writing is typically great, as is the sound, which, freed from the thick layer of Mr Sheen applied to Villains by Mark Ronson, feels alive, aided by the all-in-a-room recording process. And while the band have been through many line-up changes (Homme is the only constant member) it's hard to refute that something special is happening between Homme, Troy Van Leeuwen, Dean Fertita and Michael Shuman, who as a tight unit, are a forced to be reckoned with.
One of the most important bands in recent rock history back at the top of their game, kicking off the UK leg of their world tour just down the road, for a not-insane £34. See you in the pit…