Places in Time: The Art of Kenneth Steel at Weston Park Museum
Maja Lorkowska, Exhibitions Editor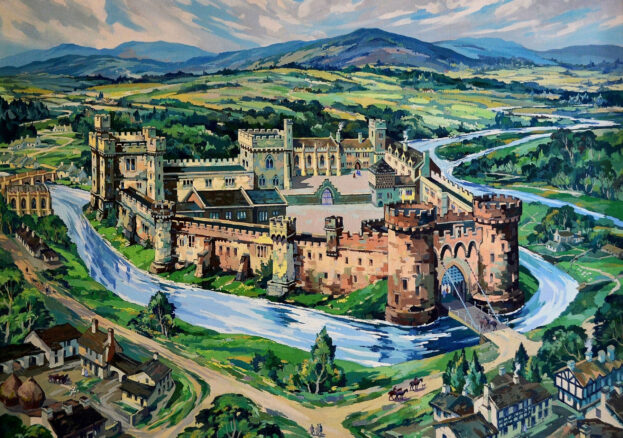 Sheffield's Weston Park Museum is celebrating local artist Kenneth Steel, whose name is perhaps not known to many unlike his artistic output. The Places in Time: The Art of Kenneth Steel exhibition features over 100 drawings, paintings, prints, posters and more. Known for mid-century travel posters and depictions of architectural landmarks, Steel's work has an instantly recognisable style, its realism mixed with the warmth of fondly-remembered places visited on a late summer holiday.
Despite being known for railway posters, these pieces are not futuristic imaginings of a machine and a metropolis, but rather little celebrations of the places close to Steel's heart. The paintings are charming, flooded with light and reflecting the author's attention to detail. Lending themselves to commercial use, Steel's work was often utilised as posters, particularly for posters and carriage prints.
Born in 1906 in Sheffield, Kenneth's art training began at the very young age of 12, at the Sheffield College of Art after which he became an engraver. He then continued to perfect his painting technique under the watchful eye of landscape artist Stanley Royle and became the youngest artist to be elected to Royal Society of British Artists in 1936. Although Steel had a successful career as an artist, his personal life was tainted with tragedy. He lost both his mother Anne, and his pregnant wife Olive during the War. The Sheffield Blitz bombing also destroyed a lot of his work, including etching plates.
Post-war, however, he specialised as a commercial artist and went on to write a number of books on artistic techniques. He produced travel posters for the British Railways and architectural drawings including the very first image of Jodrell Bank Observatory.
Described by the Sheffield Telegraph as the "the biggest artistic find" of the year 1932, Steel was a highly skilled printmaker yet his output was diverse in technique and approach, ranging from the clean lines appropriate for industrial subjects, to planes of bold colour in his later, experimental landscape works. Whether or not you are familiar with Steel's work, Places in Time: The Art of Kenneth Steel is a fantastic opportunity to become closely acquainted with the diverse oeuvre of an accomplished, local artist.