Pekka Kuusisto (violin) Nadia Sirota (viola) Markus Hohti (cello) at RNCM
Johnny James, Managing Editor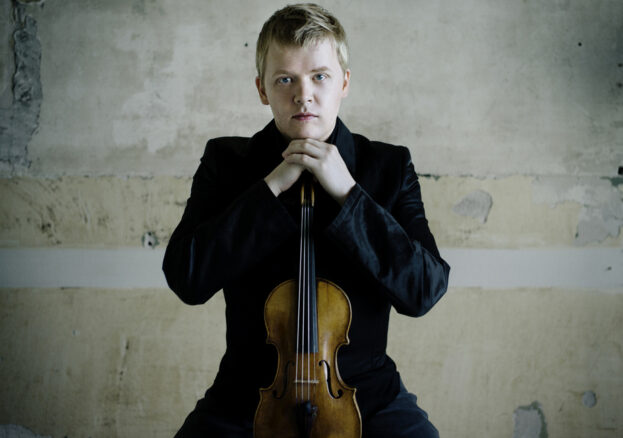 Finnish violinist Pekka Kuusisto is a highly charismatic player, renowned for his fresh approach to repertoire. His upcoming concert at the RNCM is his only UK date on this visit, and will be filled with contemporary American repertoire by the likes of Nico Muhly, Missy Mazzoli and The National's Bryce Dessner. Kuusisto will be joined by violist Nadia Sirota and cellist Markus Hohti – two gifted players in their own right.
Once described by The Times as "The David Bowie of the fiddle", Pekka Kuusisto has made waves in a number of different music scenes. As a soloist and with various ensembles, he's built connections between jazz, electronic, folk and classical worlds. He's also proved himself a skilled improviser, with gutsy performances in his jazz trio Töykeät as well as his solo electronics sets.
Picking up the violin at the age of three, Kuusisto enrolled at the Sibelius Academy when he was nine years old. Moving onto university studies in America, he quickly established himself as a top-level player, and became the first Finn to win the International Jean Sibelius Violin Competition. It was around this time that he started experimenting with other styles, going on to perform with groups as varied as Nightwish, Don Johnson Big Band and The National.
In classical circles, Kuusisto is internationally renowned both as a soloist and a director. Widely recognised for his flair in directing ensembles from the violin, Kuusisto is an Artistic Partner of The Saint Paul Chamber Orchestra, Artistic Best Friend of Die Deutsche Kammerphilharmonie Bremen, and an Artistic Partner of the Mahler Chamber Orchestra. Other directing engagements include the Tapiola Sinfonietta and the Scottish and Swedish chamber orchestras.
At the RNCM, Kuusisto will share the stage with Nadia Sirota and Markus Hohti. Sirota's varied career spans solo performances, chamber music, curation and broadcasting. She has a singular sound and expressive execution, and has recently become the New York Philharmonic's first ever Creative Partner. Similarly, Markus Hohti is an impressively versatile cellist, equally at home playing classical, baroque, contemporary and jazz music, whilst also experimenting with electronic music.
The three players will be delivering an exciting programme of contemporary American repertoire, one highlight of which is Keep In Touch by Nico Muhly, a solo viola piece which was written for Sirota. Another treat will be Bryce Dessner's Skrik Trio (commissioned by Steve Reich), which both Kuusisto and Sirota premiered in 2017. Perhaps the most thrilling piece in the programme, though, is Missy Mazzoli's frenetic, city-inspired Lies You Can Believe In, which will test the players' (let's face it, already proven) virtuosity.
This promises to be a wonderful concert, and as Kuusisto's only UK date on this visit, not one to miss!