Pavement at O2 Apollo
Johnny James, Managing Editor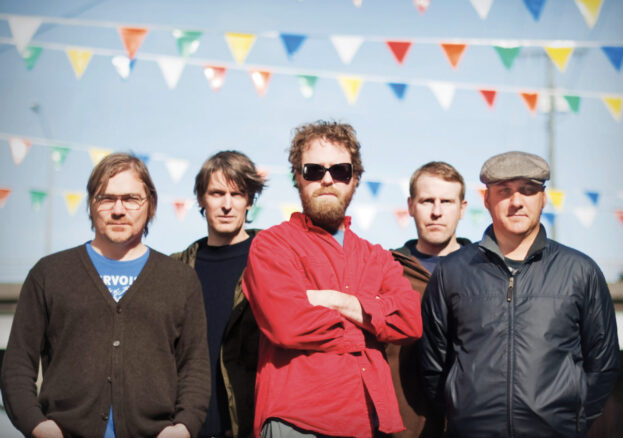 This year marks three decades since Pavement released their debut album, Slanted and Enchanted, an oh-so-casually genius record which saw them become one of the leading lights of the '90s American underground. Who'd have thought, when they disbanded at the end of the century, that in 2022 they'd be playing those same songs to more people than ever before.
If Kurt Cobain gazed into the abyss and shrieked, Steven Malkmus took a side glance and shrugged. Sardonic, absurdist, almost nihilistic, Pavement's early records served up a kind of sad comedy – one that skewered ladder-climbing 'success', desperate commercialism and most importantly '80s barnets. All held in a noisy tug of war between sincerity and wise-ass piss-taking. But beneath the goofball thrash of Slanted & Enchanted (1992) and Crooked Rain, Crooked Rain (1994), there are some great, effortless (always) pop songs.
One of these songs – 'Cut Your Hair' – became a minor hit, and left Pavement in mortal danger of becoming a mainstream success. Stephen Malkmus, Scott "Spiral Stairs" Kannberg, Mark Ibold, Bob Nastovich and Steve West deftly avoided this crisis by releasing the deliberately chaotic and obscure Wowee Zowee (1995), before the more focussed, pop-oriented Brighten The Corners (1997). The latter saw them largely drop the characteristic squalling feedback and shambolic rhythms in favour of something altogether prettier; 'Stereo', 'Shady Lane', 'Type Slowly' remain some of their most accessible and perfectly crafted pop songs.
But there are plenty more on Terror Twilight, their final album. This was recorded, somewhat inexplicably, with big-time producer Nigel Godrich, whose super-technical and fastidious sci-fi style most famously graces all of Radiohead's music (fun fact – Johnny Greenwood played harmonica on the album sessions). However, for all the talk of "polish" and "precision" Terror Twilight is still very much a Pavement record, and a great one.
It's also their darkest, most volatile album, and in retrospect it's easy to see why. After a decade of playfully confounding listeners with his elusive wordplay, Malkmus opened 'Ann Don't Cry' with a line so frank and literal, it essentially became Pavement's epitaph: "The damage has been done/I am not having fun anymore." Shortly after the record's release Domino announced the band would be "retiring for the foreseeable future".
They wouldn't play together again until 2010, when they topped the bills of festivals worldwide, before again retreating into the shadows. They planned to mount a re-reunion tour in 2020, but the pandemic scrapped those plans. This year, though, it's back on; for the first time in over a decade, Pavement are heading to the UK. Catch them at the O2 Apollo on 20 October.