Light Up Lancaster
Creative Tourist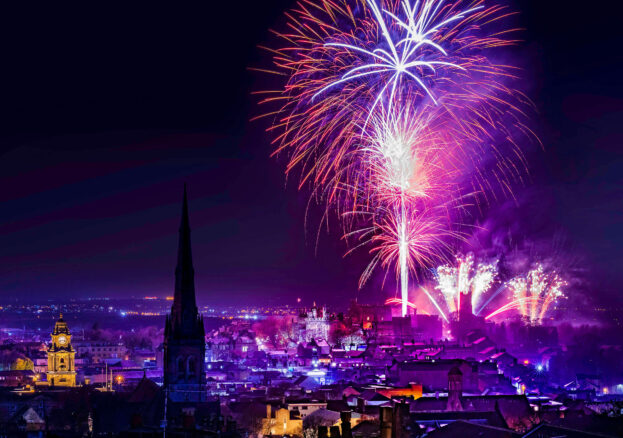 Transforming the streets, gardens and historical venues of Lancaster for one weekend every year is Light Up Lancaster, a spectacular free-of-charge festival celebrating work by local and international artists. This work illuminates the city's heritage buildings, public spaces and community corners, giving Lancaster residents and visitors alike a chance to experience light in a way they have never experienced it before.
The tenth instalment of the usually-two-day festival sees it expand, stretching over a full three days. Plans for the festival are being finalised but highlights already include a stunning projection installation in the castle which will reveal the unique history of The Great Cowcher, an illuminated 15th-century document that has been referred to as the Duchy of Lancaster equivalent of the Domesday Book. Must-see events are also in the pipeline for Market Square, Dalton Square and a host of sites across the city centre.
Further specifics about the 2023 edition are still under wraps, but here's our preview of last year's event, which should give you more of an insight about what to expect this year.
———
Light Up Lancaster is taking place on 4-5 November, with an astounding array of new light-themed installations and activities. The theme of the festival is Flights of the Imagination, which aims to enchant and transport audiences into a mesmerising, glowing world without boundaries, through stunning light-art installations and participatory, intimate exhibitions.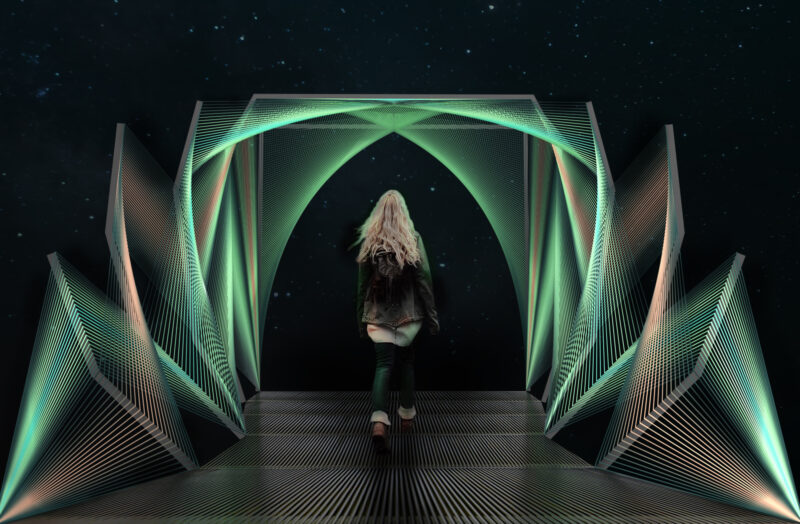 Creative producer, George Harris said on the theme: 'It seemed ideal, given how everyone has had such a tough time and been restricted during the pandemic, to throw off the shackles and let our imaginations take us to places where there are no boundaries.'
The festival will present sparkling, never-seen-before installations, created to delight and entertain people of all ages. Karl Wilby's magical light-based animated sculptures – Zomotion Zoetropes – will 'fly' and light up the sky in Storey Gardens, and And Then I Slipped, exhibited in Lancaster Priory, will present a magical waterfall of light, created by award-winning digital art and performance company, idontloveyouanymore, and inspired by waterfalls seen in classic children's films including Jungle Book and The Lion King.
Visitors can also experience a remarkable combination of light art, robotics, inflatables and puppeteering produced by Air Giants at Sun Square, and a short, creative tour that follows a trail of animation, projection and live music in the footsteps of a young Afghan refugee as she searches for fellow creative spirits among the darkened city streets.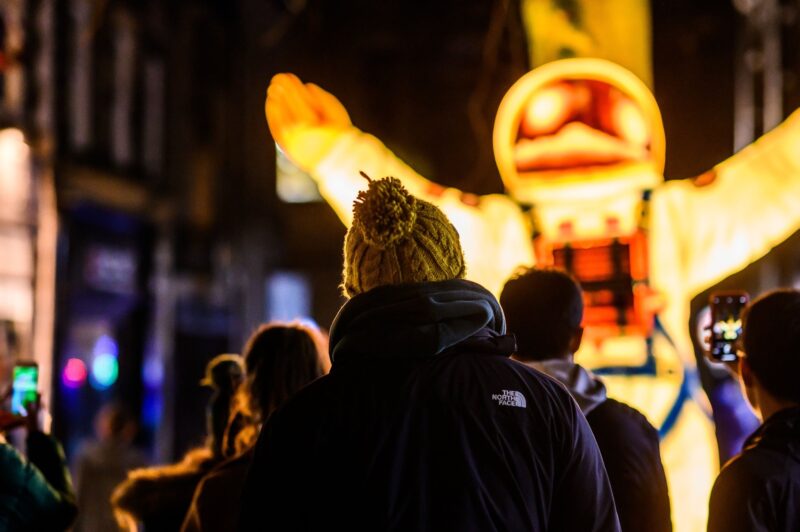 For craft enthusiasts, there will be a multi-cultural Art Fair, brought to Lancaster by Preston City Mela who will 'pass the light' to Lancaster as Diwali, the Hindu Festival of Lights, comes to a close. The Art Fair invites you to celebrate and participate in traditional crafts, including Islamic paper art, paper lantern-making and henna art.
All of the light installations are free and within walking distance of each other. The festival is open from 5-10 pm on 4 November and 5-7.30 pm on 5 November. The festival draws to a close with the Firework Spectacular which starts at 8 pm on Saturday and can be viewed from across Lancaster. Wristbands are required for the official viewing areas at Quay Meadow and Giant Axe. If you didn't manage to order any online, you can still view from Williamson Park (no wristband required) and locations across the city – if you can see the castle, you can see the fireworks.
A Light Up Lancaster Trail can be downloaded from the free LoyalFree app via the App Store, and a printed map will be available a couple of weeks prior to the event from Lancaster Visitor Information Centre in Storey Gardens. The Centre is the information hub for any festival enquiries. To get in touch, call 01524 582934 or email lancastervic@lancaster.gov.uk.