Jockstrap at New Century
Johnny James, Managing Editor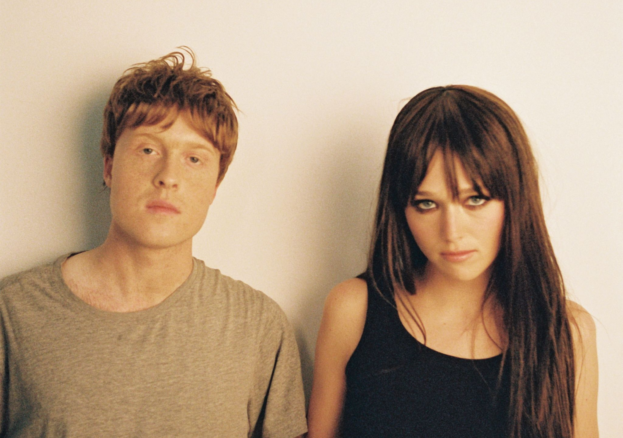 Shortlisted for this year's Mercury Prize, shapeshifting duo Jockstrap are playing at New Century this Autumn.
Three years in the making, Jockstrap's debut album I Love You Jennifer B is a masterclass in contemporary pop music, and cements the duo as one of the most vital young groups to emerge from South London's so-called 'Windmill Scene' in years.
Meeting at a London's Guildhall School of Music & Drama, vocalist/violinist/songwriter Georgia Ellery and electronic producer Taylor Skye formed Jockstrap in 2017, around the same time as another of Britain's standout young bands, Black Country, New Road, in which Georgia Ellery also plays the violin and guitar. Every bit as exciting as that freewheeling collective (themselves nominated for the Mercury in 2021), Jockstrap's early output saw Ellery's pristine songwriting and gentle vocals disrupted by Skye's harsh, unpredictable production.
They got snapped up by Warp in 2020 and released two great EPs before dropping their debut record in 2022. Immediately evident is the pair's firm footing in various styles, from classical to jazz, combined with something altogether more experimental. It's a unique approach to the pop format and incredibly sophisticated by any standard, but particularly impressive given the fact that Jennifer B is only the duo's first full creative statement.
The record is full of luscious Hollywood strings and soft vocals set to Latin-tinged and elegantly composed songs, all set against sharp bright synths, metallic beats and jarring electronic noise. Early single 'Concrete Over Water' is a high-drama standout – a wild but totally beautiful track that ranges from sparse, organ-led verses to madcap, PC-tinged dance music.
'Greatest Hits', another highlight, is totally different. Here Ellery reign as Disco Queen, doing her best Donna Summer impression as she mashes up biblical imagery with 20th-century pop stars and Marie Antoinette. Skye's production offers its own winking mashup of Fatboy Slim-esque big beat and something much more contemporary and cosmos-leaning. 'Glasgow' is something new again – a singalong coming of age ballad, sweet and rapturous, with just enough freakiness to keep you on your toes.
And that's what the whole album does so well; full of creative handbrake turns, plot twists and fake outs, you never know what's going to come next, but each little revelation is sweeter than the last.
Given the detail and precision of Jockstrap's music, you really need decent speakers get it all across in a live format. Luckily New Century more than holds its own in that regard. Catch them there on 7 November, if you snag a ticket in time, that is; given the recent announcement of the Mercury nomination, they're flying.