Jennifer Pike with Martin Roscoe at The Stoller Hall
Johnny James, Managing Editor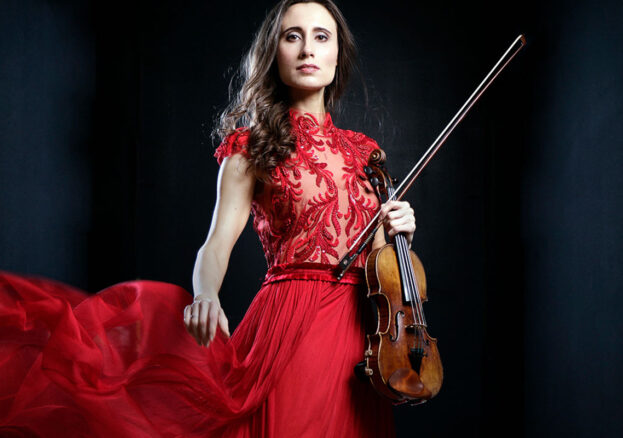 Renowned for her "dazzling interpretative flair and exemplary technique" (Classic FM), violinist Jennifer Pike has taken the musical world by storm since she won the BBC Young Musician competition aged 12, whilst studying at Chetham's School of Music. At The Stoller Hall she'll perform with Martin Roscoe, one of the UK's most loved and respected pianists who is in great demand as a concerto soloist, chamber musician and recitalist. The pair will present a programme which celebrates Jennifer's Polish heritage, her love of Elgar, as well as the compositional talent of her father, Jeremy Pike.
The concert will open with a work by Grażyna Bacewicz, a Polish composer and violinist who is celebrated for her progressive style and wonderful musicianship. Her 1949 work for solo violin, Polish Capriccio, is only around two minutes in length, but it is brimming with ideas – most of them rooted in Polish folk melodies. Full of twists and turns, the piece requires impeccable virtuoso technique, thus kicking the evening off in thrilling style.
Next, we'll hear Elgar's Violin Sonata in E minor, which was inspired by the "wood magic" of his local Sussex woodland. One of his major contributions to the chamber music genre, it's scored for the usual combination of violin and piano, and has three movements. The opening Allegro is characterised by anger and frustration as the music rises to the highest registers only to plunge into the depths of the lowest. The middle movement, by contrast, is full of grief and sorrow, and features some of Elgar's most expressive writing. The finale is bright, upbeat and soothing, similar in tone to the last movement of his hugely celebrated Second Symphony. Criminally underperformed, we're thrilled to see this wonderful sonata programmed here.
Another sonata is next, this time by Jennifer's father, Jeremy Pike, who is Head of Composition at Chetham's. His major commissions include Missa Brevis for Warwick University Chamber Choir, a Bassoon Concerto for Graham Salvage and the RNCM New Ensemble, and The Crossing Point, premiered by the City of London Sinfonia in November 2005. Jeremy's Violin Concerto was written in celebration of his own 60th birthday, and was premiered by Jennifer at Lincoln Arts Centre in January 2016.
The concert will be rounded off with Miklós Rózsa's Variations on a Hungarian Peasant Song. Rózsa is best known for his film music, for which he was Oscar-nominated on thirteen separate occasions, winning three times with A Double Life, Ben Hur, and Hitchcock's Spellbound. The composer was equally passionate, however, about music for the concert hall, and his works range across nearly every major genre. He penned his colourfully orchestrated Variations while a student at the Leipzig Conservatory in 1929. Featuring an intricate synthesis of folk idioms and classical techniques, these variations were written to be performed without a break and require some very expressive and virtuoso playing from the soloist. They are in great hands here.
From the excitement of Bacewicz' opening Polish Capriccio to the closing challenge of Rózsa's colourful Variations, this programme leaves Jennifer Pike plenty of room to showcase her wonderful talent at The Stoller Hall. We can't wait.