Gojira at O2 Apollo
Johnny James, Managing Editor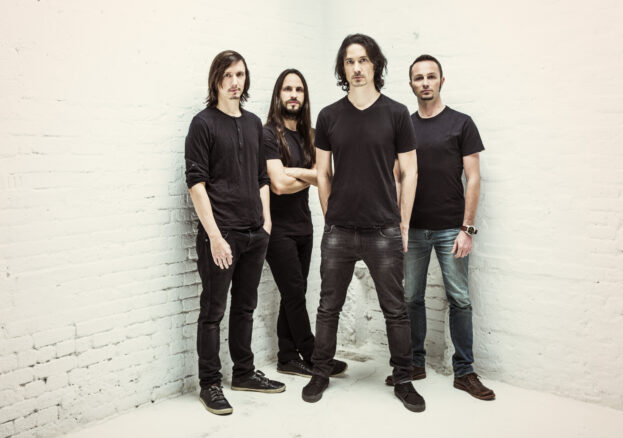 French metal goliaths Gojira are bringing their insane live show to the O2 Apollo this July. Here's why you should be excited.
Gojira are a rare breed. Fusing progressive and death metal, they write atmospheric, technically impressive songs whose lyrics are preoccupied with the environment and humans' destruction of the planet. Simultaneously brutal and ambient, their debut album The Link (2003) showed each member of the band to be a master of their respective craft. Vocalist/guitarist Joe Duplantier is able to perform unusually pitch-perfect growls, which paired with his guttural roars (more usual to the genre) creates an amazing timbral range up front. His right-hand-man Christian Andreu ramps up the evil with his detuned, aggressive guitar chugs and spiky accents, whilst Jean-Michel Labadie's menacing bass surges below. Irregular time-signatures and savage rhythms, meanwhile, are served up by Joe's brother Mario Duplantier, who is widely regarded as one of metal's most creative drummers.
They followed their impressive debut with 2015's From Mars To Sirius, a pummellingly heavy but thoughtful release whose narrative follows a species' attempts to rebuild a dying planet. It features a track called 'The Heaviest Matter in the Universe', which might be just that, thanks to Mario Duplantier's insanely fast feet and Andreu's malicious fingers. Two more solid albums followed, before L'Enfant Sauvage (2012), which introduced the band to a global audience. More accessible structures, teeth-sinkable hooks and masterful choruses were met with instant acclaim, with the venomous and perfectly-paced title track being a particular standout. Elsewhere, 'The Gift of Guilt' manages electrifying intensity and quiet heartbreak at the same time, while 'Planned Obsolescence' offers up three and a half minutes of pulverising, rage-filled energy before – in accordance with the matter at hand – the bottom suddenly falls out, and a distant piano part reflects on what has passed.
This record paved the way for the even more immediate Magma (2016), which is Gojira's most recent – and in some ways best – album. It's a melody-led, emotionally-charged record in which the band manage accessibility whilst remaining typically studious in their technical ambition. From the get go, it's impressive. 'Silvera' is a cavernously atmospheric track whose killer chorus could easily find its way onto mainstream rock radio (sorry purists). 'The Cell' is a heavier, angrier affair, showcasing the raw power of Joe Duplantier's amazing voice. The absolute stand out, though, is 'Stranded' – probably the catchiest track they've ever written. Opening with a dissonant, squealing guitar riff, it lurches into a bleak, head-banging verse and then a massive, face-slapping chorus. All before a poignant, vocal harmony-led section, which feels like a sweet antidote to the venom… before a further, fatal bite.
Whilst Gojira are brilliant on record, there's a whole new layer of ferocity to be discovered at their live shows. Devastatingly heavy, impossibly tight, they are simply one of the best live metal bands out there. Their music is LOUD, their lights are crazy and they put everything they've got into each performance they give. Don't miss the chance to experience this amazing band live this July. You won't regret it.