Godspeed You! Black Emperor at Manchester Academy
Johnny James, Managing Editor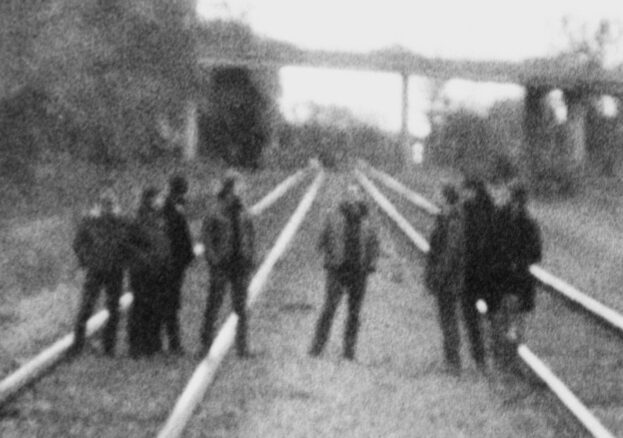 Symphonic punk outfit Godspeed You! Black Emperor have released one of the best albums of their 27-year career, and they're bringing it to Manchester Academy this September.
Godspeed You! Black Emperor are a nine-piece from Montréal, and really, that's pretty much all we know about them. Few rock bands have been as steadfast in trying to let their music speak for itself; they don't have a website or social media, they don't do photos or give interviews, they've never even released a music video. While this has, over the last quarter of a century, shrouded the band in a cult-like mystique, this wasn't necessarily their intent. Fiercely political, Godspeed are unflinching in their critique of a grim consumer society in terminal decline, and they refuse to participate "in cultures of personality, exposure, access, commodification or co-optation."
Their music is full of the heretical anarcho-punk spirit that the above implies. 1997-2002 saw the band release a string of albums that redefined what protest music could be, with longform instrumental chamber rock serving as soundtracks to late capitalist alienation and resistance. These records – especially F#A#∞ (1997) and Lift Your Skinny Fists Like Antennas To Heaven (2000) – are regarded as classics of the era and genre. Awash with politically potent samples – from explicitly anti-government monologues to the sound of police radio chatter during protests – this is, on the one hand, political art.
On the other it's a simple testament to the raw power of music. Above all else, Godspeed make achingly beautiful records, which flit between elegy and aggression with a widescreen grandeur. And their latest album, G_d's Pee AT STATE'S END, is up there with the band's best in that regard. Inexorable chug blossoms into blown-out twang as some of Godspeed's most soaring, searing melodies ricochet and converge amidst violin and bassline counterpoint. One standout is 'Ashes to Sea or Nearer to Thee', which is arguably the most radiant, galvanising, dare I say it… hopeful… piece of music in all of Godspeed's catalogue, rising gradually from a brooding murmur towards a love-will-conquer-all climax.
Experiencing the visceral force of Godspeed You! Black Emperor live is quite something. They bathe their audiences in mesmerising, multi-layered symphonic waves, inducing ecstasy, terror and everything in between. While the band might serve up some tough messages, in the end, their hypnotic, sensuous music strikes the heart first and the head second – and of course it will always be at its most devastatingly powerful in a live setting. Bag yourself a ticket for their Manchester show via the button below.