Family Yoga – How To Catch A Star at the Royal Exchange
Gemma Gibb, Associate Editor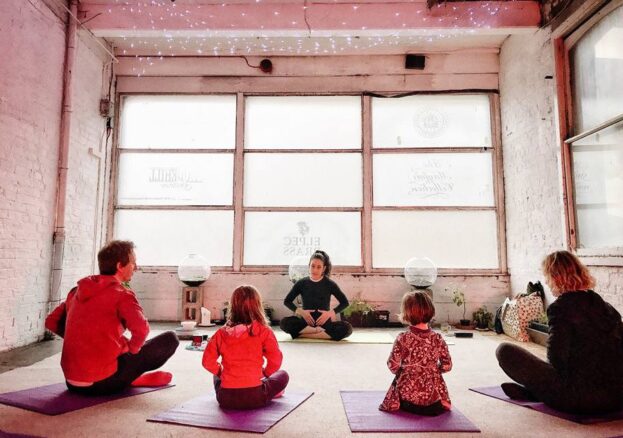 Each month in Manchester, families can head to the Royal Exchange for yoga sessions together, inspired by different, much-loved tales.
Led by Sara Lucarelli of Yogi Life, we recommend booking quick as you like to snap up spaces for May's edition.
How To Catch A Star is Oliver Jeffer's inspirational book about a boy and his quest to catch a star. Expect a family yoga session which explores this lovely tale through creative movement, storytelling and song. Little and big yogis alike will be inspired through both the story and the session that the sky is the limit … and hopefully leave stretchy enough in body and mind to find a way to reach it too.
Together with the energetic and challenging yoga activities you might expect, there is also partner work, breathing practice, rejuvenating relaxation and fun guided imagery too. The session ends with creative mindfulness activities involving themed art and craft – adding to the sparkly effect of being in the moment.
The sessions last an hour and a half and are aimed at all ages and abilities. Sara has an extensive background in children's education (previously a Head of Department at a secondary school in Manchester) prior to qualifying as a yoga teacher and specialising in yoga for young people. She believes that yoga and mindfulness are great activities for children due to their scope for imaginative discovery and non-competitive movement.
The popularity of the sessions are testament to the fact that families agree, with sessions always selling out in advance. Don't worry and ruin that zen though. Bookings are also being taken for classes up to the end of 2018 with themes including Alice In Wonderland, How To Hide a Lion and The Witches (for Halloween). There are two classes a day each month.
We love the combination of storytelling, energy,  dance and creativity, as well as the chance for relaxation. We're off to grab our mats.