Falling Light at Leeds Corn Exchange
Johnny James, Managing Editor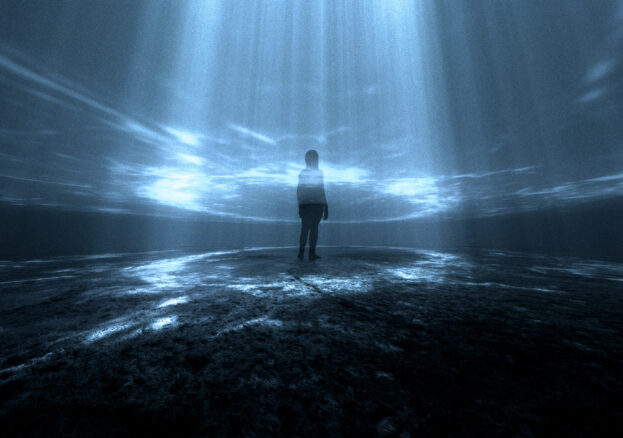 Leeds International Festival, the UK's leading metropolitan festival of new ideas and innovation, is just around the corner. Boasting a huge line-up of innovators and pioneers, 2019's edition looks to be its most exciting yet. Amongst the most intriguing events is Falling Light, a wildly inventive collaboration between design studio Flat-e and electronic artist Daniel Avery. Set within the iconic Leeds Corn Exchange, this promises to be truly special. Here's a glimpse of what it entails.
Blurring the boundaries between music and art installation, Falling Light will be a unique spectacle wherein the audience is an integral part of the performance. The focus of the work will be a translucent horizontal screen floating above the crowd and inviting their gaze. Out of darkness, light will descend from the screen onto the audience's bodies, bathing them in otherworldly abstractions whilst in tandem, original music by Daniel Avery envelops them sonically. Attendees will feel fully enmeshed in this multi-media creation as it comes to life.
This is by no means the first time Flat-e have produced such boundary-pushing work. Led by Matt Bateman and Rob Slater, the design studio has worked with a long list of field-leading musicians in creating innovative installations, artworks and visual experiments which engage audiences in unexpected ways. Recent collaborators include Clark, for whom they made custom mobile LED screens and Jon Hopkins, for whom they made interactive LED balls which changed colour each time the crowd hit them.
As for Daniel Avery, you'll no doubt be aware of his flawless Drone Logic album – a masterclass in house/techno/electro. A head trip for the darkest corner of the dancefloor, it was met with massive acclaim upon its release in 2013. Its follow-up, Song For Alfa, dropped last year, and saw the Bournemouth-born artist expand his sonic vocabulary and widen his ambition. With ambient lullabies that morph into booming big room that slips into hypnotic techno, this is an album to get good and lost in.
Flat-e are in fact no strangers to Song For Alpha. They created experimental animated works for not only the record but also its surrounding live shows. Together, Flat-e and Avery built a partnership which has proved a fertile creative environment for both parties, pushing their work in interesting new directions. The latest of these is Falling Light, which emerged from a desire to create an immersive artwork that could be enjoyed outside of nightclub culture.
We can't wait to see and hear the fruits of this collaboration. If you, too, would like to be a part of it, then the key date for your diary is the 2 May, when Avery will present his original music in person to open the installation to the public.