David Byrne at Manchester Arena
Johnny James, Managing Editor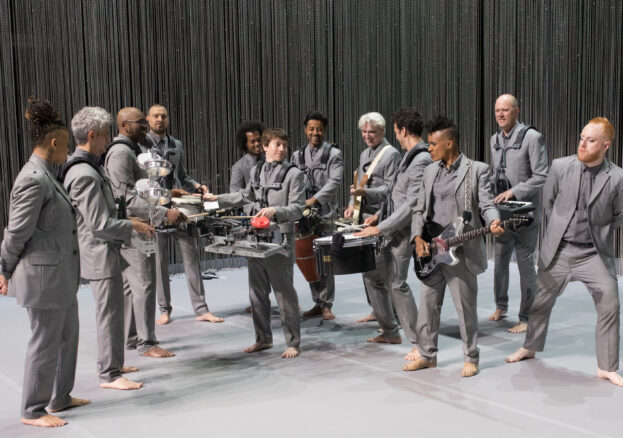 Known best for his twitchy, querying art pop band Talking Heads, David Byrne's current solo shows are the most ambitious since those filmed for the legendary Stop Making Sense film. Receiving five stars across the board, his American Utopia tour is a must for any fans of this prolific genius. Having brought the show to the O2 Apollo a few months back, you have just one more chance to catch it in Manchester: on the 2 November, at Manchester Arena.
Talking heads were, of course, a phenomenally important band. Like many greats of that era, they caught their break at CBGB's in New York, spotted quickly by Sire Records' founder Seymour Stein. There, they became associated – somewhat erroneously – with the burgeoning punk scene. With the help of Stein's coining of the phrase New Wave, though, they broke loose, and started furrowing their own distinctive path.
In 1977, they released their debut album, Talking Heads 77 to wide acclaim, with the song 'Psycho Killer' proving a hit. Touring the album in London shortly after, they met Brian Eno, with whom they collaborated on their next three more experimental albums: More Songs About Buildings and Food (1978), Fear of Music (1979), and Remain in Light (1980). The latter, in particular, was ground-breaking.
Heavily influenced by Fela Kuti, Remain in Light incorporated West African-inspired polyrhythms, which totally redefined the band's sound. One of the most innovative albums of all time, it's best known for its TV preacher-inspired single, 'Once in a Lifetime'. After a three-year interim came the synthier, funkier Speaking in Tongues, which featured the hit song 'Burning Down the House'. It was on this tour that Stop Making Sense – the most highly regarded concert film ever – was filmed.
Though this marked the band's last tour, their best-selling album was still to come: Little Creatures. The band reverted to relatively straightforward pop/rock songs on this album, with lyrics that explored themes of Americana. 'Road to Nowhere' is the highlight. After a slightly underwhelming follow up called True Stories, the band released their swansong: 1988's underrated Naked. Recalling the groove-driven and genre-bending style of Remain in Light, and exploring themes of alienation and dread, this was a strong album to go out on.
So, it was over and out for Talking Heads. But not for David Bryne. In the 30 years that have passed between then and now, he's cultivated a terrific solo career in which he's applied his restlessly creative mind to a huge number of solo and collaborative projects. The first after the split was Rei Momo, a record in which Byrne is clearly eager to change things up. Displaying his love and deep understanding of Latin and South American music, it's terrific fun. It was supported by a tour in which Byrne performed with a 14-piece band of mostly Hispanic and Brazilian musicians.
Fast forward to the nineties, and his album Feelings was another interesting one. A playful collaboration with trip-hop act Morcheeba, it has a slightly dancier edge to it. 'Dance on Vaseline' is particularly good, and so is is 'Miss America'. Look into the Eyeball and Grown Backwards came next. The former is made up of upbeat, funk-driven pop songs, whereas the latter is more pensive, combining the reflective romance of orchestral strings with bursts of Latin percussion.
It's been fourteen years since that record, and there haven't been any more solo efforts since. That is, until, American Utopia popped up out of nowhere earlier this year. Among his best solo albums, it's a defiantly optimistic record, and features some great tunes. 'Gasoline and Dirty Sheets' is one of them – an instantly familiar track that muses on freedom and commercialism. 'Everybody's Coming To My House' is another winner – a tense and eccentric song that juxtaposes uplifting lyrics with a menacing groove.
Overall, the mood of this record is one of surreal joy. The same is true of its supporting tour. American Utopia the tour features a 12-strong band whose choreography has them in near-constant motion. Their movements are incredibly tight – much more so than you could reasonably expect from working musicians, and their joy for what they are a part of is infectious. As for Byrne, he looks and sounds in remarkably good shape as he travels through his solo career as well as his days with Talking Heads. If you weren't able to catch him at the Apollo last time around, then, if possible, try and get to his arena show, because this really is something special.