Darkside at New Century
Johnny James, Managing Editor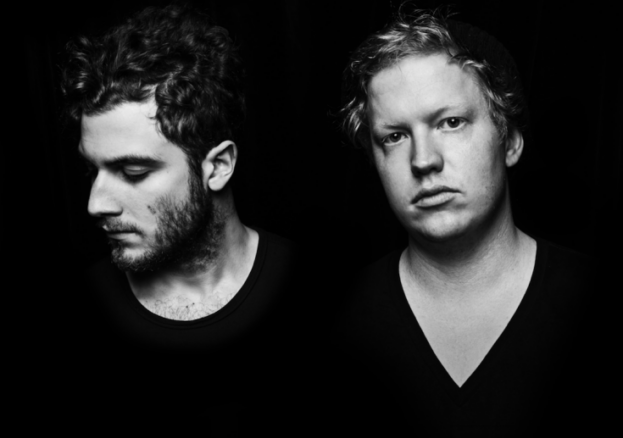 The hallowed collaborative project from electronic music composer Nicolás Jaar and jazz multi-instrumentalist Dave Harrington, Darkside dropped their long-awaited second record, Spiral, in 2021. Now, they're taking it on the road, calling in at Manchester's best new(ish) music venue – New Century – on 16 June.
Both musicians hold intimidating CVs in their respective fields – Jaar working within the boundaries of increasingly experimental electronica, and Harrington as an avant-garde jazz guitarist and occasional producer. They met while studying at Brown University, before Harrington joined the live band for Jaar's Space Is Only Noise tour, in support of his excellent 2011 breakthrough album. In their downtime on that tour, the pair began jamming across a mélange of genres, from jazz to psychedelia to house. Darkside was born.
Following a curious reimagination of Daft Punk's Random Access Memories and a promising self-titled EP, 2013 saw the release of Darkside's full-length album, Psychic. Its dreamy exploration of rock's cosmic outer edges through the immersive, body-moving framework of 21st-century house and techno made for an instant cult classic, lapped up by both the high minded and the high minded. Following in the vein of gateway rock/electronic albums like Kid A, it bridged the gap between genres with the kind of artistic depth and breadth for which the term "progressive" was coined, while presenting a sonic brand that was wholly their own.
After touring the record around the world, Darkside suddenly went on what felt like a premature and frankly irritating hiatus. For eight years. But now they're back, and with an excellent new album in tow. Again working on primal instinct and summoning a hybrid of electronic music and psychedelic rock, Spiral is every bit as exhilarating as their debut. Intermeshing organic and synthetic components, dazzling layers of tactile percussion and digitally disintegrated beats take a front seat, grounded by the earthy sound of Harrington's smouldering psych-rock guitars and Jaar's hypnotic falsetto which, like the music around it, weaves sinister, abstracted images that seem to warn of some unknown, impending doom…
Listen to a few of our favourite tracks from the album above, and get on those tickets nice and early if you fancy the New Century show on 16 June. Darkside's first Manchester gig in nearly a decade is bound to be a sell-out.