Curiosities and Sculpture: a fabrication at AIR Gallery, A4 Studios
James Mathews-Hiskett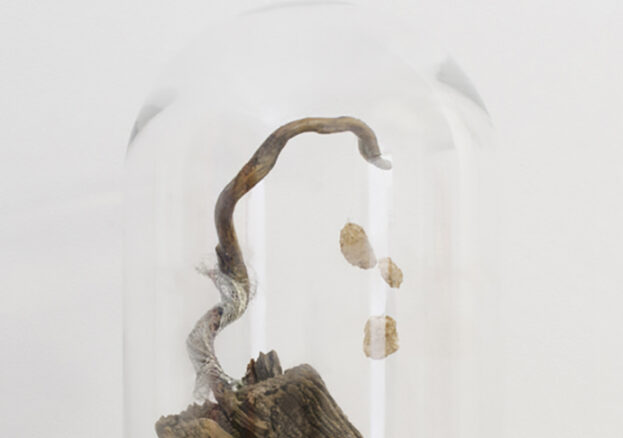 A4 Studios and its onsite exhibition space, Air Gallery, are forging a new home for the curious and creative in Altrincham, in the form of a two-room contemporary gallery suite, 22 unit studio complex and a project space (situated within A4 Studios).  A4 Studios was founded and is led by an ambitious team of artists and curators who aim to inject fresh energy into the local community and nurture talent among artists of all abilities by providing excellent quality, affordable and fully-accessible studio spaces and facilities.
To mark the unveiling of the new project space and soft launch of the new studio complex at A4 Studios, artist Nicola Ellis has created a large-scale, site-responsive installation. Sculpture: a fabrication (2017) is the second iteration of an ongoing body of research by Ellis, who is interested in exploring how the artist can be present in large scale sculptures often fabricated by others. The towering piece, which leans and hangs precariously on a set of girders and the surrounding studio project space walls, has a modular aesthetic, which seems to reference potential movement and reconfiguration by someone else.
Combine a visit to see this impressive artwork and the exciting new developments at A4 Studios, with a look around AIR Gallery's current exhibition; Curiosities. The show brings together the work of 13 artists , exploring different interpretations of curiosity, and all things peculiar and strange. Entering, the space feels more akin to a natural history museum than a gallery, with a jumble of glass jars, viewing cabinets and plinths filling the room.
Among the show's highlights, Helen Wheelers' incredibly fragile Begin Well, End Better (2015)  pushes the boundaries of what glass can do, expressing the artist's keen interest in the limits of a material. Do you know your A-Z? (2017)  by Penny Alexander humorously addresses our curiosity with ourselves, in the form of a typewritten book containing an A-Z of weird ailments and illnesses drawn from historical medical textbooks. And Lee Finch uses traditional and contemporary photography techniques to produce images that encourage a deeper level of observation in the everyday.
Contextually, the exhibition draws on 17th century cabinets of curiosity, which predate modern distinctions between artist and craftsman, artefact and art object. However, a contemporary feel is maintained, playing with the boundary between museum and gallery display. Overall, Curiosities fills its audience with exactly the feeling that its title suggests.
The diverse and eclectic nature of the Curiosities exhibition sits well alongside the developing studio complex at A4 Studios. So far, tenants include artists, upholsterers, writers, costume designers, graphic designers and an independent news channel; the diversity of the group reflecting the project's aim to provide a space that suits the needs of its wider local community.
A4 Studios is now looking forward to the opening of its new mezzanine level and communal workshop in early 2018.