MIF21: Big Ben Lying Down with Political Books
Sara Jaspan, Exhibitions Editor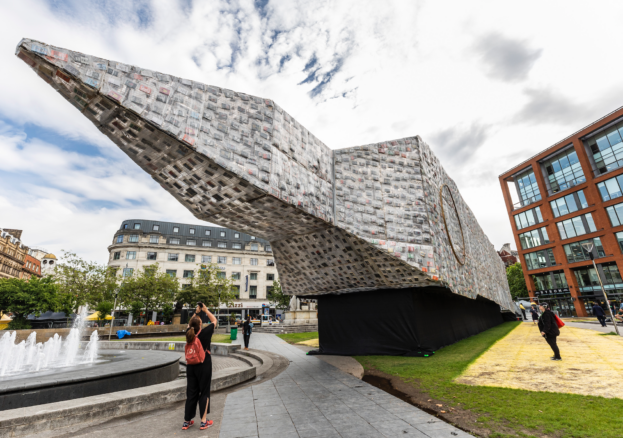 Having outlasted six monarchs and 41 prime ministers, Big Ben is one of the world's most iconic structures and a long-serving symbol of British institutional power. But when so many ideas and values are being brought into question, might it be time for a new, updated national symbol? Perhaps even (dare it be said) one located outside of London? Whilst the original clock tower remains under wraps in the final stages of its conservation, a second version has arrived in Manchester this summer.
Marking her first major UK commission and as part of Manchester International Festival 2021, Argentinian artist Marta Minujín presents Big Ben Lying Down with Political Books – a 42-metre-long reconstruction that occupies the centre of Piccadilly Gardens. The structure is made out of 20,000 books that have shaped British politics – including its forgotten histories and neglected voices – drawn from a list of 150 titles selected by a broad coalition of Manchester-based organisations (including the People's History Museum, Manchester Jewish Museum, MIF's Young People's Forum and the Wai Yin Society). The books will be given away for free during a participatory ceremony at the end of the festival – hopefully sowing the seeds for new ideas in the minds of those that read them.
Visitors are invited to walk around and through the structure whilst listening to a new sound piece composed from speeches from history and Ben Ben's iconic chimes, and to watch a short film by the artist capturing the arrival of the tower in the city. An accompanying interactive digital artwork and online exhibition also allows people to engage with the work virtually.
For Minujín, the decision to position the tower 'lying down' represents a less 'straight' view of the world – a shift toward more horizontal systems of power or less binary ideas. During a period when many of our old systems are beginning to crumble, this is an exciting new proposition that gestures towards a different, brighter kind of future.