Bang on a Can All-Stars at RNCM
Johnny James, Managing Editor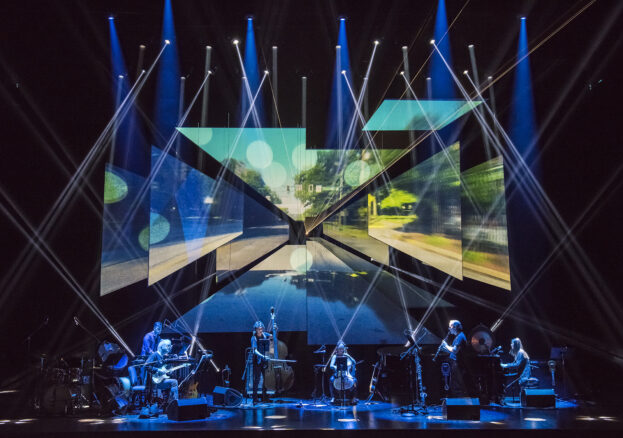 Blurring the lines of classical, jazz, rock, world and experimental music, the Bang on a Can All-Stars will perform a wonderfully adventurous programme at RNCM this February.
Formed in 1992, the six-member amplified ensemble are recognised worldwide for their dynamic live performances and recordings of today's most innovative music. Collaborating with everyone from Ornette Coleman to Steve Reich, they've forged a distinct, category-defying identity which shatters expectations of what 'concert music' actually is.
At RNCM, the ensemble will team up with four student players for an all-live performance of Steve Reich's unforgiving 2×5. Originally written for Kraftwerk's opening night appearance at MIF 2009, this piece calls for four guitars, two pianos, two basses and two drum kits – essentially a rock line-up, doubled.
The music, far from being rock, is rooted in the minimalist composer's lifelong obsession with interlocking rhythms. The pianos and basses are the motor of the piece, which progresses via interlocking canons between each pair of identical instruments. The effect is wonderfully hypnotic, with Gramophone describing 2×5 as one of Reich's "smartest, most sonically nourishing" pieces in years.
Elsewhere in the programme we find one of Reich's closest contemporaries, Philip Glass. Closing, the final piece on the composer's 1982 album Glassworks, is an ethereal delight. Like Reich's 2×5, it's based on interlocking rhythms, however Glass opts for a more simple – but incredibly effective – approach. Recalling the beautiful fragility of life, this is deeply atmospheric music that speaks to the heart first and the head second.
Ramping up the energy somewhat, we'll also be treated to Ridgeway by the Australian-born, Netherlands-based Kate Moore. Described as "a tribute to the journey going back to the point of ones origin in life", it's a stormy and thrilling piece from the young composer, and perfect for the concert hall.
The Bang on a Can All-Stars will also take on Steve Martland's gritty, unpredictable and relentlessly kinetic Horses of Induction. A perfect match for the ensemble, the iconoclastic composer is revered for crossing musical boundaries, and his joy in doing so is abundantly clear in this collage-like piece, which asks a lot from its performers.
Finally, we'll hear a piece written especially for the ensemble: Julia Wolfe's Believing. Psychedelic and propulsive, this is wonderfully weird music. "I like crude, unusual sounds", the composer remarked in a 1997 documentary, before stating both Beethoven and Led Zeppelin as influences. A meeting place for classical and rock, Believing is aggressive, unwieldy and utterly thrilling.
What a programme! Performed by the ever dynamic Bang on a Can All-Stars, we're in for a real treat at RNCM!