Awake Arise: A Christmas Show for Our Times at The Stoller Hall
Johnny James, Managing Editor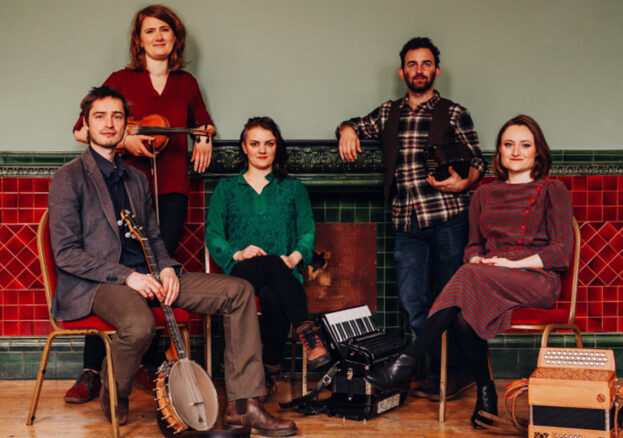 At the Stoller Hall this December, five of the English folk scene's most inventive artists will join together for a one-off collaborative event entitled Awake Arise – A Christmas Show For Our Times. Celebrating the riches of our varied winter traditions, the show reflects upon the hope and resilience in music and song and the joy they can bring us in the darkest month of the year.
In addition to her November show with the JigGoll Ensemble, multi-faceted folk star Hannah James performs here with her vocal trio Lady Maisery. Nominated for the Horizon Award at the 2012 BBC Folk Awards, the trio (Hannah James, Rowan Rheingans and Hazel Askew), have for nearly a decade produced "some of the most exquisite, thrilling vocal harmony work in the English folk scene" (The Guardian). Building on the a capella beauty of 2011's Weave & Spin and 2016's dramatic Mayday, the trio's most recent album Cycle is a masterclass in delicate vocal harmony, paired with excellent instrumental musicianship. On the one hand, it's a gloomy, portentous record (hence its title), yet despite its heavy clouds, the sun always manages to push through. This persistent, insistent joy, this hope amid troubled times, is exactly what this event is about.
Also performing in this concert, we'll hear from Jimmy Aldridge and Sid Goldsmith, both fine singers and multi-instrumentalists. Entering into a beguiling musical partnership back in 2014, they've earned widespread critical acclaim for their three politically-charged folk albums, Let the Winds Blow High or Low (2014), Night Hours (2016) and Many a Thousand (2018). "To be a great folk singer, you have to be a great storyteller, as Jimmy Aldridge and Sid Goldsmith are clearly aware", said The Guardian in a review of the pair's latest record. Indeed, the duo's socially conscious lyrics, which place an emphasis on the struggles of the working class, always shine brightly. From rousing stories of protest to atmospheric tales of night workers, they have a real knack for painting vivid pictures of the marginalised and the downtrodden. Like Lady Maisery, these pictures are most often imbued with a sense of hopeful perseverance – we might in the midst of winter right now, but spring's verdant horizon is coming into view.
Featuring a brilliant line-up of some of the most inventive folk artists operating today, Awake Arise – A Christmas Show For Our Times promises to be an inspiring and joyous evening at The Stoller Hall. Don't miss it.