Alexandra Dariescu: The Nutcracker and I at RNCM
Johnny James, Managing Editor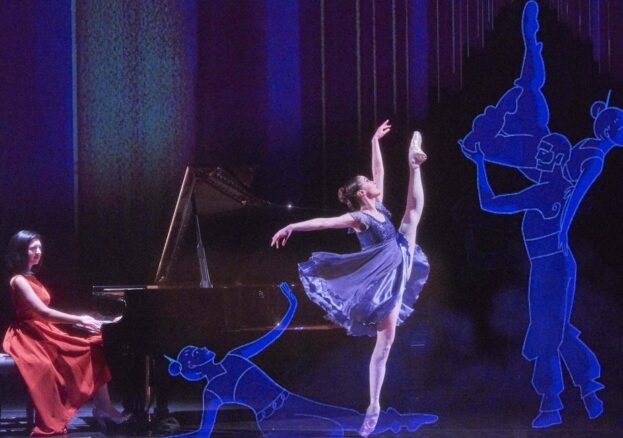 RNCM alumna Alexandra Dariescu is a concert pianist who dares to think a little differently. In 2017, she unveiled a ground-breaking multimedia version of Tchaikovsky's The Nutcracker with dance and digital animation. Its premiere at the Barbican's Milton Court was met with huge acclaim, and she has been touring it around the world ever since. On the 24 January, it's Manchester's turn to enter Dariescu's magical world: The Nutcracker and I.
Dariescu is a Romanian-born British pianist, celebrated for her virtuosity and powerful stage presence. In addition to her vivacious playing, Dariescu's vision and innovative approach to programming separates her from the crowd. Her 2018/19 touring season, for example, places a special focus on works by female composers – Nadia Boulanger and Germaine Tailleferre being two of them.
It's The Nutcracker and I that's taking up most of Dariescu's time at the moment, though. This innovative 50-minute live performance is based on the well-loved Christmas story (originally penned by E. T. A. Hoffmann), and features Alexandra Dariescu as solo pianist, a young ballerina (Clara) and digitally animated characters. A visual delight, these animations have all been hand-drawn by the award-winning Yeast Culture, whose digital creations beautifully interface with the ballerina's movements and Dariescu's playing.
Whilst the multimedia aspect of the performance is captivating, it's the piano from which the magic stems. Tchaikovsky's enchanting ballet music features throughout and includes such favourites as Dance of the Sugar Plum Fairy, Arabian Dance, Chinese Dance, Pax de Deux, and the Flower Waltz. Dariescu has selected 15 arrangements by composers such as Mikhail Pletnev, Stepan Esipoff, Percy Grainger and three brand new adaptations by Gavin Sutherland. Many of these are technically challenging – real showpieces that are sure to thrill.
The Nutcracker and I would be an ideal introduction to this amazing music and drama for children. It also promises to be a magical evening of entertainment for adults. With tickets expected to sell fast, don't miss your chance to witness The Nutcracker being brought into the 21st Century!