Above The Line presents: Screening 08. Mother! & The Exorcist at YES
Tom Grieve, Cinema Editor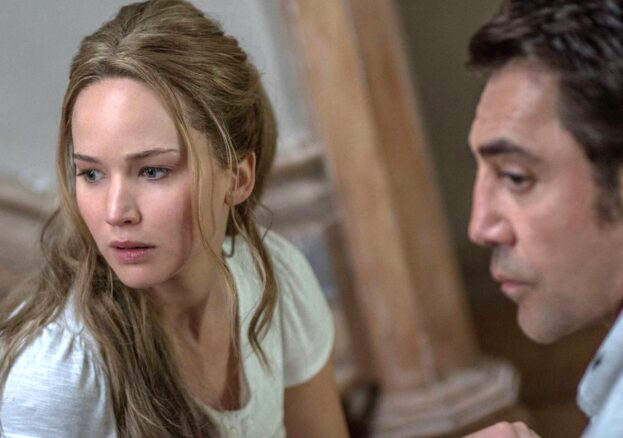 Head to YES this month for the most anxiety-inducing Mother's Day imaginable. The latest Above The Line double-bill screening pairs Darren Aronofsky's bonkers, art-horror fable mother! with William Friedkin's petrifying hall-of-famer, The Exorcist. It's not standard Mothering Sunday fare, we'll admit, but if mum's got a strong stomach and a taste for video nasties, then this could be an outing to remember.
Aronofsky's mother! prompted walkouts, moralising and a fair bit of flak on release in 2017. The film stars Jennifer Lawrence as the young wife of Javier Bardem's poet. Together they live in an idyllic country house where Bardem's character is trying to write while Lawrence's works hard on renovations. One day a man (Ed Harris) and a woman (Michelle Pfeiffer) arrive, beg to for a room and soon overstay their welcome. It's a simple premise of fraught domesticity, but Aronofsky borrows from Biblical blueprints to build it into something grander as a quiet opening opens up into a horror of mobs, blood and relentless screaming. Somewhere within there is a climate change parable and a statement on the pains of artistic creation. It's certainly overwrought, but undeniably effective stuff.
Now, mother! generated its fair share of op-ed finger wagging, but it's got nothing on The Exorcist. William Friedkin's 1973 adaptation of William Peter Blatty's novel follows the demonic possession of 12-year-old Regan (Linda Blair) and famously features enough vulgarities and creative use of a crucifix to keep the film from a home video release in Britain until 1999. Frequently cited as one of the scariest films of all time, the story is loosely based upon the last known official Catholic exorcism in the United States. Fictionalising the tale, Blatty lowered the age and changed the sex of the child from a boy to a girl — decisions that almost certainly helped fuel the controversy. For his part, Friedkin created some of horror cinemas indelible images, including Blair scurrying down the stairs on all fours and that paranormal head twist.
Perfect preparation for the week ahead.