Easter is almost upon us. For the family-minded among you, our Top Ten for Easter guide may come in handy; a list of some of the sweetest, cheapest cultural things to do over the next couple of weeks.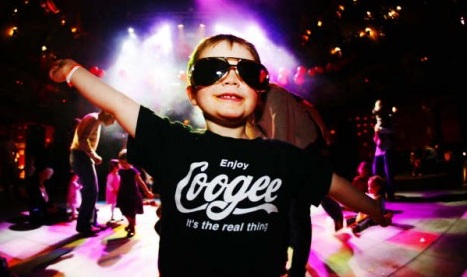 #1. Look behind you… Anyone with a child under the age of six knows and loves The Gruffalo. Those with small people brave enough not to spend an hour howling in terror can happily indulge in The Lowry's musical adaptation of the picture-book classic. Pop into the Annie Lennox exhibition afterwards – 'tis worth a look. The Gruffalo, 17-21 April, The Lowry, £11.
#2. Quack. We're none too sure about the Manchester Duck Race. It comprises a load of plastic ducks, decorated to within an inch of their synthetic lives, swirling about in the muddy waters of the Irwell. But what do we know? The four year-old we took along last year LOVED it; his wide-eyed adoration having absolutely nothing to do with the close proximity of candy-floss and ice-cream. Manchester Duck Race, 6 April, 2pm, Spinningfields, free.  
#3. What is it with Alice? The appeal of Alice in Wonderland is apparently endless. Hot on the heels of a highly successful Alice exhibition at Tate Liverpool (now closed) comes Tatton Park's Alice-inspired 'Easter festival', a cornucopia of children's activities across farm, gardens and house. Alice in Wonderland Easter Festival, 7-9 April, Tatton Park, times and prices vary.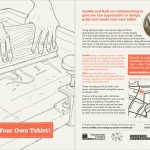 #4. DIY. Bank holidays are traditionally a time for DIY, so get your grumpy teens down to the super-cool Islington Mill for their own version: a 'make your own' t-shirt workshop run by the wonderful people at printmakers One69a. Workshop, 7 April, 1pm-4pm, Islington Mill, £15 for 1/£25 for 2.
#5. Creepy, crawly. Although they profess not to be into child labour, the folk at the People's History Museum want small people to join them in the hunt for the insect critters who eat their banners. (They are running workshops where kids can find out about conservation and make their own pipe-cleaner bugs.) Bugs & beasties trail and workshop, daily until 15 April, 10am-5pm (drop in), People's History Museum, free.
#6. Fancy yourself a sculptor? The great thing about museums is that they let your kids get 'creative' and then they have to clear up the almighty mess afterwards. MOSI is offering a genius papier-mâché 'sculpture' workshop where kids can make their own train (station platform building). Sculpture workshop, daily until 15 April (11am-1pm & 2pm-4pm, drop in), MOSI, free.
#7. Or more of a colourist? More mess at someone else's expense, this time at Manchester Art Gallery for their 'colour pop' workshops. This workshop is good for older kids (screen printing, marbling), younger ones (painting, block printing) and babies (colour baskets, light tables). Prepare to queue, or go after 1.30pm when it's usually a bit quieter. And if your kids are inclined to nap, pop into the amazing Roger Ballen photo show while you're there. Colour Pop, 4-5 April & 10-13 April (1pm-3pm), Manchester Art Gallery, free.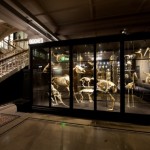 #8. Dig for Victory. We do love The Manchester Museum and could happily live there if we weren't scared of the stuffed polar bear. Taxidermy aside, the museum is running daily events in its allotment, getting kids to make and take their own plant pots, and also start growing a sunflower as part of the massive experiment to mark the centenary of mathematician Alan Turing. Worth a trip – but take a packed lunch (picnic area on the top floor); the café tends to get mobbed when it's busy. The Museum Allotment, daily until 13 April, 11am-4pm, The Manchester Museum, free.
#9. Digital treasure hunt. The kind folk at Treasure Trails Lancashire are offering you lot a free 'Manchester Spy Trail' – a self-guided, smart phone walk that reveals some of the history of this industrial city and asks you to solve puzzles as you walk. The trail starts in Albert Square, heads into Castlefield, and you can pop into MOSI on the way back to the Town Hall. Sweet. Download the freebie here.
#10. Nice park. You can never go wrong with the National Trust, and thankfully Manchester is surrounded by posh properties that do a good line in cake, kids' activities and nice gardens. We love Lyme Park for its ginormous adventure playground; Dunham Massey is a good bet if your kids like scrambling over fallen trees (which, fact fans, are left in situ for the 12 species of incredibly rare deadwood beetles that inhabit the deer park there). Check Lyme Park and Dunham Massey websites for event details; entry to adventure playground and deer park both free.
Got toddlers? Check our guide to navigating the rainy city with the under 3s.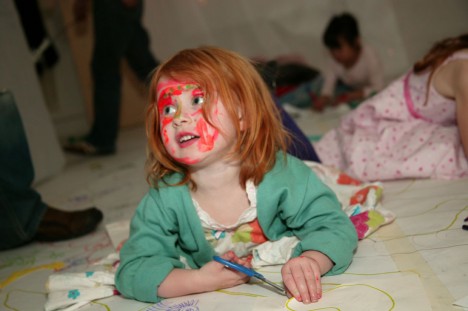 Images (top to bottom): Baby Loves Disco, courtesy Sophie Mitchell/MOSI; One69a; The Manchester Museum (Living Worlds gallery); Mini Art Club, Manchester Art Gallery.