Water Lane Boathouse
Alice Hiley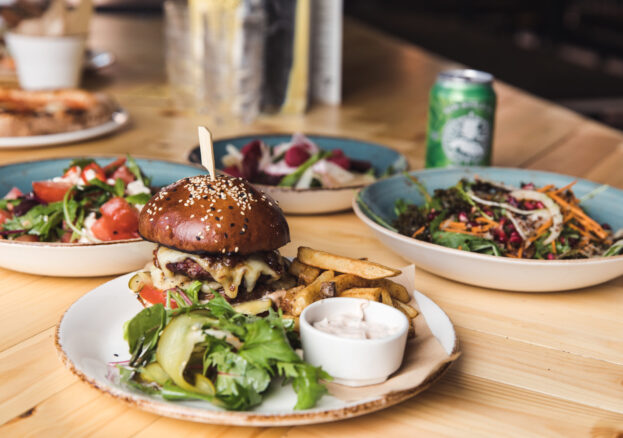 Water Lane Boathouse, a waterfront bar and beer garden, is the brainchild of the owners behind Belgrave Music Hall, Headrow House and Super Friendz. Serving a fine selection of beers, wines and food, the venue boasts a large bar, a snug mezzanine and a show-stopping outdoor space.
Situated at Lock Number One on Canal Wharf, the Boathouse was built in the early 1800s as a shipment warehouse for the Leeds to Liverpool canal, later becoming a granary storehouse for threshed grain. It's now a spacious and stylish place to hang out and chat over a beer, cocktail or bite to eat.
Enjoy a fantastic range of freshly made food, from sourdough pizzas to hot and cold sandwiches, healthy salad bowls and juicy burgers. There's a reason Water Lane Boathouse's sandwiches are renowned across Leeds – each morning, the Small Victories bakery makes the bread from scratch.
The pizzas are just as famous. The dough is made using just three ingredients; Organic Yorkshire flour, water and salt. It's then proved over 24 hours, a process which helps to gently break down the gluten to deliver a much lighter, tastier pizza.
Independent vendors visit the venue for pop-up festivals throughout the year, bringing Leeds' best street food to the waterfront – past events have featured pie and ale weekends, bank holiday barbecues and a taco and tequila festival. Don't miss the weekly pub quiz, plus live music events and Water Lane Workshops.
Dogs are welcome at Water Lane Boathouse – the venue even has a dedicated Instagram page Water Lane Doghouse and an annual Scruffs event to show off all of the bar's four-legged regulars.
The venue is wheelchair accessible, and the Water Lane Boathouse team is dedicated to accommodating other access needs; visitors are encouraged to contact the venue prior to arriving to discuss individual requirements.