Tŷ Pawb, Wrexham
Sara Jaspan, Exhibitions Editor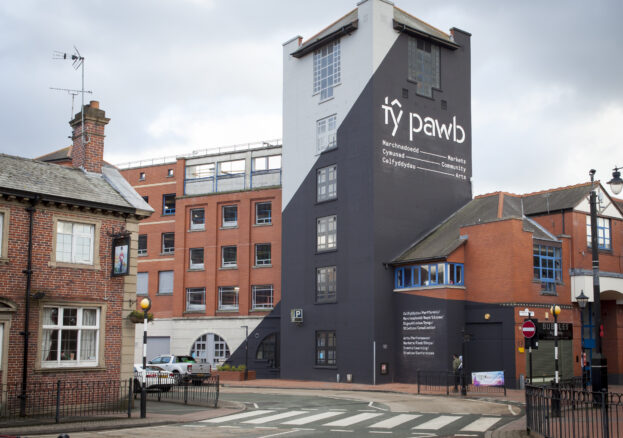 'Tŷ Pawb' is Welsh for 'everyone's house', and that is exactly what Wrexham's brand new cultural community hub is intended to be. The name was voted for by the people of the market town (adopting a system similar to the naming of HOME in Manchester) and perfectly encapsulates the spirit and intention behind the project. Namely: to offer a space for dialogue around subjects including social and civic issues, the environment, health, cultural identity, sustainability and education.
Having been in development for over four years, Tŷ Pawb opened in April 2018 and features two galleries, performance areas (including a 104-seat theatre), a gallery shop, market stalls and a food court. It is located on the site of the old People's Market in Wrexham, with the idea of bringing art and markets under one roof, whilst celebrating the great significance of market commerce within Wrexham's cultural heritage and identity since the 14th century.
The redevelopment is the result of a £4.5M investment from the Welsh Government, Arts Council of Wales and Wrexham council – signalling an important vote of confidence in the country's expanding contemporary art scene. Commenting on the project, Phil George (Chairman of the Arts Council of Wales) said: "The arts are not just 'a nice to have icing on the cake to be forgotten about in tough times' they are central to strengthening the human spirit and opening up a sense of possibilities."
Tŷ Pawb will present a contemporary programme of welcoming and inclusive exhibitions (beginning with "Is this Planet Earth"?  – a group exhibition which imagines the world viewed through the eyes of visiting aliens), as well as socially engaged projects and live performance. A diverse series of regular workshops teaching creative skills and craft activity will also be hosted by the centre, led by emerging and established artists from all backgrounds.
Less than 15 minutes by train from Chester, we highly recommend a visit!