Pippin's Corner
Vicky Andrews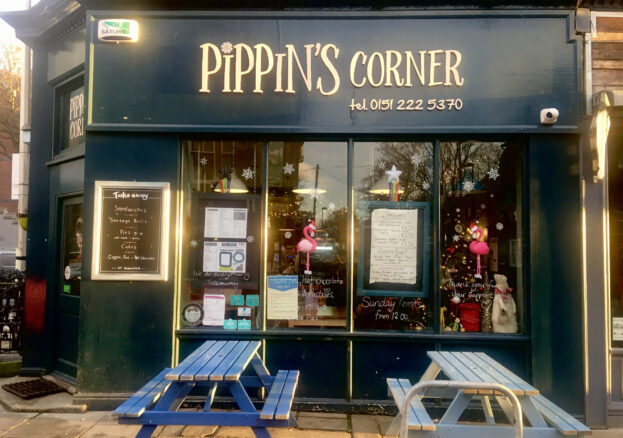 Pippin's Corner is a family-friendly cafe on Liverpool's famous Lark Lane, in the leafy suburb of Aigburth. If you want to escape the city for a few hours then this is the place to go. Pippin's Corner is an ideal base for exploring Lark Lane's independent shops, grabbing an all-day brekkie and then walking it off in the magnificent 200-acre Sefton Park. No need to feel guilty about ordering an extra sausage or pimped-up hot chocolate today, Lady.
From the outside, this friendly bistro looks like a Dickensian version of the TARDIS, an oceanic-blue facade with tall arched windows and brick walls dotted with potted plants. Inside, it's a cosy refuge from the elements, the ideal vantage point to peep up from the Sunday papers and watch the wildlife over the road at Keith's Wine Bar or The Albert pub. Bright and spacious, Pippin's Corner has all the home comforts you need; fab coffee, great tunes, decent WiFi and the loveliest staff on 'The Lane'.
It's soul food for all seasons, from the 'Superfood Salad' to homemade pie of the day
Owner, Sian Griffiths, has bags of experience in hospitality and always has a warm welcome. She only uses local independent suppliers and the menu is uncomplicated but with plenty of choice for all tastes, from charcuterie boards and platters, to hot and cold sandwiches, burgers, fish & chips and a cracking Sunday roast. It's soul food for all seasons, from the 'Superfood Salad' (£9.95) to homemade pie of the day (£10.95) with GF and vegan pies sourced from Liverpool's very own Gluten Free Pie Company.
There are plenty of veggie and vegan options at Pippin's Corner, as well as gluten-free bread, so nobody has to miss out on hot buttered toast with breakfast. The big draw here is the full whack brekkie, available as a meaty small (£7.95) / large (£9.50), veggie or vegan (both £7.95). For something a little lighter, try the eggs Benedict served with parma ham and hollandaise or turn the heat up with Pippin's Spicy Eggs (£6.95), sriracha scrambled eggs on smashed avocado and chunky toast. Boston pancakes (£7.50) come with streaky bacon and maple syrup, or you can supercharge your waffles and fruit with a cheeky scoop of ice cream (£5.95).
Pippin's Corner is a very popular spot on Lark Lane and can fill up quickly at the weekend, but don't worry because you can order all of the above to take-away too. Now, that is boxing clever.