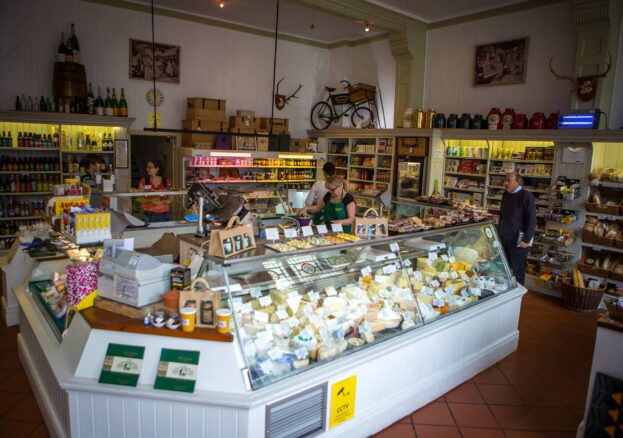 Right in the heart of the town centre, J&J Graham is a Penrith icon. The current deli and bakery dates back to 1880, but the business itself has been going since 1793. It's no wonder that it gets so much right.
Even from the outside, J&J Graham promises as tasteful and sophisticated shopping experience, a far cry from the supermarket rush. The big sandstone façade, with its understated stained glass windows and elegant gold lettering, calls to mind a bygone age of retail – though the produce inside is as fresh as it comes.
As soon as you walk in the door, you'll be greeted by the smell of freshly baked bread, or perhaps, if it's a little later in the day, the rich smell of the day's takeaway soup, wafting across the counter towards you.
(Make sure you try the scones, which are made fresh every day, and are some of the best in Penrith!)
Whether you're looking for fresh, local meats and cheeses to put together a picnic, or more wide-ranging groceries for rustling up a gourmet meal, J&J Graham is the perfect place to start.
J&J Graham prides itself on selling quality food, often from local businesses. Many of the local brands they stock also have a long heritage (Farrer's, for example, is the UK's oldest coffee roaster, and has been in business for more than two centuries). You'll find all the usual Cumbrian favourites, such as Kendal Mintcake (famous for its ascent of Everest in 1953 and for its continued use by expedition leaders and mountaineers) and Cumberland sausage. But you'll also find beers, wines and ciders from local independent breweries, as well as locally produced sweet snacks and confectionary.